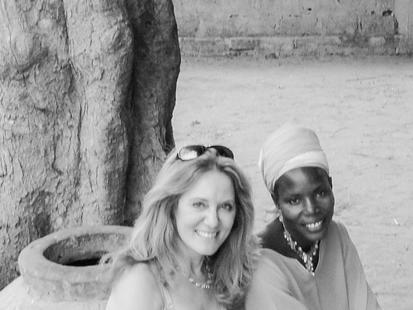 Mala Bawer
MBA '79, Co-Founder, CyberSmart! Education
Industry
Education/Research
Digital Learning and Sustainable Education in Sub-Saharan Africa
Originally from Virginia, Mala Bawer (MBA '79) currently resides in Senegal, West Africa, where she serves as executive director of CyberSmart Education LLC, a social enterprise she co-founded with her husband focused on scalable and sustainable digital learning. CyberSmart Education has impacted over 10 million students and teachers in communities around the globe, including sub-Saharan Africa, the Middle East and the United States.
What were your early years like? Why did you decide to pursue an MBA at Darden?
I grew up in Fairfax, Virginia, attending public schools. My father started his own company when I was in elementary school. I spent almost every Saturday at his office. I did not understand what he did, but I felt that he worked hard and enjoyed doing so.
I actually pulled out my application to Darden and reread it for the first time in 42 years. I felt very proud. I would have written essentially the same thing today. I wrote that I wanted "the professional capabilities to initiate organization change in the most effective way," noting my particular interest in "the psychodynamic aspects of initiating change in an organization." 
What do you remember most from your time at Darden?
First and foremost, the indelible friendships I made and treasure to this day
Darden was a huge adjustment for me. I arrived after 18 months of budget backpacking in Europe and Israel. And I mean budget; I think it was $20 a day then. I was failing after the first semester. I was lost. I was forced to appear in front of a faculty committee: I recall telling them that they had accepted me to study with classmates with undergraduate business backgrounds and business work experience. I had neither. So they had to admit they made a mistake with me, or I simply needed more time. They gave me the time and Darden transformed my thinking process.
What was your path to co-founding CyberSmart Education LLC?
After Darden, I first entered the print publishing industry then got involved with videotext technology, the two-way interactive electronic delivery of information to consumers that was the precursor to what we all know as the internet.
My husband and I had professional skillsets that were very complementary, and so we decided to launch our first company, a financial information service called Stockalert. We provided major financial institutions with the very first interactive telephone and fax-based market data package for consumers.
We also launched a family. It so happened that our children's elementary school years coincided with the onset of schools spending money on computer labs, which is how the idea for our second company, CyberSmart Education, came about. My husband and I were interested in this area because we had both been involved up close in the early interactive technology ventures and saw clearly the potential benefits of technology for young people. So in the midst of the initial public hysteria surrounding the safety of the internet for children, our company offered a groundbreaking research-based curriculum to foster 21st century learning, or digital literacy. Our strategy of positive empowerment is now modeled internationally.
Can you tell me a bit about your current role in CyberSmart Education and the work you are doing in sub-Saharan Africa?
We learned that it is simply impossible to adapt existing commercially available technologies. The reality is that these existing technologies were not designed for use in developing countries. That is why CyberSmart Africa has come up with the first massively scalable digital learning platform — an affordable bottom-up solution based on insights from our 9-year grassroots collaboration with teachers across rural Senegal — designed specifically for schools without electricity.
The CyberSmart Digital Learning Platform is an all-in-one mobile, solar-powered device extending traditional whole-class instruction with multimedia-rich digital resources. Just imagine virtual science experiments in schools with no science equipment! The CyberSmart Digital Learning Platform combines an Android computer, interactive projector, and connectivity together with compelling learning content and teacher training. This is a high value addition to what is now labeled "the Internet of things," bringing together new devices for innovative, practical results. 
Traditional whole-class instruction is the most sensible and least costly starting point, but teachers can also use their mobile phones to preview lesson content, access training modules and share knowledge with colleagues. The CyberSmart Africa network of connected teachers will become the basis for numerous future e-commerce opportunities. Students will also be able to connect with tablets and engage in more personalized learning when costs come down.
We also believe that financial sustainability is crucial and have embraced a for-profit business model based on ongoing subscription revenue.
What began your interest in working globally? How has working around the world influenced your worldview?
We were on a tourist visit to West Africa visiting some schools for fun, and we began thinking how we could leverage our expertise with online services to affect the dire need for education in the developing world. We were convinced that effective use of technology, including solar power, is the only way to educate the fastest growing youth population in the world. We came to this with a background in content development, product development and online training. Specifically, we had developed the very first and largest online digital literacy program in the U.S. Then, the expansion of our work to Qatar gave us direct insight into the cultural issues affecting education.
Grassroots collaboration is essential. We have seen hundreds of millions of dollars flushed down the toilet in a variety of education technology projects in sub-Saharan schools that were completely unsustainable and totally ignored the needs of the majority of sub-Saharan classrooms that have no electricity.
What kind of impact do you aim to make through your work?
Sub-Saharan Africa has the fastest growing youth population in the world. Forty-three percent of the population — nearly half a billion people — are under the age of 15. Furthermore, the vast majority of schools will not have electricity for decades. At the same time, it is widely acknowledged that it will be impossible to educate these young people without effective use of technology. The international community just has not been able to harness technology in the best ways to address this enormous challenge, but it is possible and that is exactly what we want to do. 
A quality education will be the key determinant as to whether young people in developing nations will have the skills to contribute to their country's economy or become an added burden to it. The global implications of hundreds of millions of poor, uneducated young people is a recipe for disaster.
What do you consider your greatest achievement? What does success look like to you?
All said and done, my greatest achievement has been a 30-year marriage to my best friend and business partner and, together, raising two amazing children, Remy and Jeremy. Remy is pursuing an acting career in New York City, and Jeremy is an accomplished film director. His first film was the award-winning feature film Tall as the Baobab Tree and his second feature film, Tracktown, was co-written and co-directed with his fiancée Alexi Pappas, who ran in the Rio Olympics.
What advice would you give to future global leaders?
The world is made of so many different religions, cultures, traditions and habits; and we all need to get along in order to do business, operate our governments, and prosper as societies and individuals. Leaders need to develop a deep understanding of what it feels like to be in the other person's shoes.
What's next for you?
My husband and I are enjoying the home we recently renovated in Senegal. We look forward to continuing our work with CyberSmart Africa, building the partnerships necessary for growth and impact. And at the same time, we are exploring new, exciting ways to apply all of the lessons we have learned in this exciting journey.