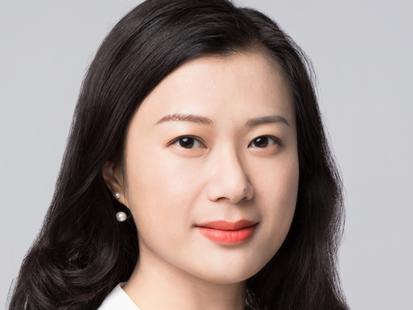 Marcia Mao
MBA '15, Director of Portfolio Management, Zenity Capital
Areas of Expertise
Private Equity
A Beacon of Change for Male-Dominated Private Equity Industry
Marcia Mao (MBA '15) has broken through in an industry that has long had a reputation for being a club for men.
Last year, Mao — a Chinese woman — made it to the top brass in private equity. She became director of portfolio management at Zenity Capital in Beijing, managing its $700 million portfolio of around 15 mostly growth-stage and public companies that it has backed.
She thanks her MBA from the University of Virginia Darden School of Business for aiding her ascension to a top private equity job. The program allowed her to develop cross-cultural collaboration and problem solving skills, which are important in global finance, dealing with diverse clients and complex problems.
Mao attributed her growth to the diverse cohort of classmates she studied alongside and Darden's famed case studies, in which students pore over real corporate dilemmas.
"The learning agility that the Darden case method gave me is enormous, making me unafraid of picking up any new field." says Mao.
Her rise in the private equity industry is unique. According to a 2017 report from data provider Prequin, women held just 18 percent of investment positions in global private equity, which is less than venture capital firms and hedge funds.  
"There are lots of super talented women in the investment world, but it's pretty challenging for a woman to manage her work-life balance because society usually expects women to take care of the family, more so than men," says Mao.
She believes the lack of gender diversity is a problem for private equity firms because an abundance of research has proven that diverse perspectives yield alpha. A report from the International Finance Corporation found that investment funds with gender-balanced senior teams achieved 10–20 percent higher returns than unbalanced teams, for example.
"We need more female investment leaders as they bring different value to a fund," says Mao.
She hopes to bring market-beating returns to Zenity Capital in what has, until recently, been a boom time for the Chinese private equity industry. In the past few years, scores of new funds were launched as the country's technology companies achieved sky-high valuations.
However, Chinese private equity firms have more recently been stung by the tighter availability of credit and a sputtering IPO market, causing a fall in fundraising and of funds cashing in on investments.  
Mao believes her strategy insulates her fund from these broader market woes. Zenity Capital invests in both growth-stage and maturity-stage companies, rather than backing companies based on the potential of their overall industry, which leaves investors vulnerable to wider industry wobbles.
"Early stage investing is more about the industry." says Mao. "Growth-stage investing is really challenging for personal investment capability in terms of identifying a good company with high potential, then evaluating its founders, team, management styles and the company's fundamentals, which varies by each investor."
Making an Impact on Companies and People
Mao's portfolio at Zenity Capital is diverse — a cadre of about 15 companies in health care, technology and broader industries.
The potential for significant impact on the fortunes of these companies, their founders and staff is what drew Mao to private equity. She is a management consultant by trade, having worked at Deloitte and Gibson Consulting before earning her Darden MBA. After graduation, she joined Bain & Co. in Shanghai, where she worked for three years before joining Zenity Capital.
"It's hard to make a real impact in professional services, as you're not fully engaged in the businesses you consult," Mao says. "You provide recommendations to clients but never see how they are implemented."
She does, however, leverage her experience as a consultant in her private equity job, especially the exposure to a diverse range of companies across industries — evaluating their potential and solving their strategic, operational and organizational problems.
Her job involves conducting due diligence, valuations and supporting firms through to exit. "We send employees into our portfolio companies to be CFOs, CEOs, to make an impact," says Mao.
Her biggest challenge is finding enough talent to fill those roles. "Usually, the portfolio manager focuses on the business and finance side of things, since investors demand results," says Mao. "The human resources part of the job is undervalued. It's one of the most powerful tools to support the growth of the portfolio."
Her ultimate ambition is to see companies through to a successful exit for her firm. Established three years ago, her fund expects two to three exits through IPOs within the next year, Mao says.
That would cap a remarkable run for one of few female portfolio managers amid a challenging investment climate in China. Mao hopes to one day be a beacon of change for private equity, making it less of an old boys' club.