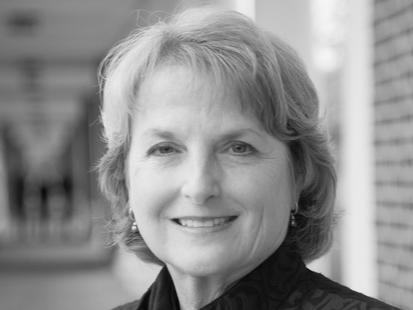 Mary Buckle Searle
MBA '86, Managing Director, Strategic Thought Partners
Industry
Government/Nonprofit
20 Questions with Mary Buckle Searle
Since Mary Buckle Searle (MBA '86) and her husband, Stewart, returned to Charlottesville four years ago, she has thrown herself with characteristic enthusiasm into her work with the Darden Alumni Association. She served as president of the Charlottesville chapter and, this past spring, acted as the Reunion Giving Chair for the 30th reunion of her class. "The happy smiles on the faces of all attendees" at the reunion, she says, are her favorite memory of that weekend and will remain with her for years to come.
Searle's role as giving chair was a natural fit given her extensive experience with executive recruitment. For more than 20 years, she was based in Atlanta, where she worked as an executive search consultant for Egon Zehnder International and as a partner at Heidrick & Struggles before starting her own recruiting business, Strategic Thought Partners. While in Atlanta, she also devoted herself to giving back to her community as a member of the board of directors for Atlanta's chapter of the March of Dimes as president of The United Way's Women of Tocqueville Society. Searle, who has a bachelor's degree from Virginia Commonwealth University, says that while she hasn't yet picked a cause in Charlottesville for which to volunteer, "it has been a gift to help my aging parents, parents-in-law and three rescued Labrador retrievers live their sunset years with comfort, dignity and respect."
What was your first job?
In high school, I mowed grass and worked retail in a fabric store. My first job after college, I was an account executive for AT&T at the White House and Camp David.
What's the best advice you have ever received?
Education opens doors.
Who do you most admire?
All the #METOO women who are standing up and raising their voices, and the people who are finally listening and acting. The problem does not just reside in Hollywood and Politics.
What motivates you?
In my formative years, striving for self-sufficiency was a driving force. A singular theme throughout my life has been getting things done, whether that was in the workplace, at home or in the community. Today, it is about giving back and staying healthy.
Where do you do your best thinking?    
Outdoors and near the water. Places that harken back to my roots on the Chesapeake Bay.
What do you lose sleep over?
Not much these days. I don't have a lot to complain about, but I worry more about those who aren't so lucky.
What are you reading these days?
Since my husband and I returned to Charlottesville in 2013, I have been immersing myself in Virginia history and World War I, reading books suggested by instructors in the UVA continuing education program. Many of the instructors are retired UVA history and architecture professors. What a treasure!
What's your motto?
I grew up on the mottos: "Waste not, want not" and "It takes all types to make the world go 'round". During the latter part of my active executive search career, I became very interested in family genealogy, so a new motto emerged: "I search for living people by day and dead people at night." You've got to have a little levity in life.
What characteristics do you look for in people?
Sincerity, honesty and authenticity. I particularly like it when they have a quick wit and a good sense of humor.
What is your current state of mind?
Hopeful
How do you unwind?
Living in Charlottesville provides so many scenic vistas, the Monticello Wine Trails with over 33 vineyards, and a place to turn red clay into beautiful serene gardens. Who can be uptight with these kinds of de-stressors at your fingertips?
What natural talent would you most like to have?
To play a musical instrument, read music and sing like an opera singer. I've been a lip-syncher my whole life.
Which class at Darden impacted you the most?
It's hard to pick just one, so I won't. John Colley's "Corporate Strategy" opened up a whole new framework with which to analyze my work environment. And of course, Sherwood Frey's "Negotiations" with "getting to yes" was invaluable, too. 
Describe a moment when you realized the true value of your Darden education.
Each time an industry crumbled under my feet, and I had to pick myself up and start anew. Darden's training provided the tools to reinvent, muster forth and find my voice.
What did you enjoy most about serving as Class of 1986 Reunion Giving Chair for your 30th reunion?
Spending time with my classmates of 1986 with whom I shared an extraordinary two-year experience and who have been friends and soulmates through the last 30 years.
What advice would you give other alumni serving as Reunion Giving Chairs?
Develop an outreach committee to call more classmates to come and reconnect with friends.
Why did you decide to make a major planned gift in your reunion year?
I grew up in a small town in Virginia. Darden was a game-changer for me. There were only three other Darden graduates from the Eastern Shore of Virginia before me, and I was the first woman from that area to graduate. I wanted to help these numbers increase dramatically.
As an executive search partner, what did you look for when hiring executives?
1) An accurate resume: the good, the bad and the ugly. Most of us have had bumps in the road, not all of our own making, such as industry bubbles; cultural clashes; new team in, old team out.
2) A successful career, but not all at the same company. I wanted to see their flexibility to integrate into a variety of cultures.
3) Candidates who were genuinely enthusiastic about my client's company and opportunity to have positive impact.
What recommendation do you have for job-seeking alumnae?
If you liked the Darden experience and the Darden culture, look for companies with Darden alumnae or start one.