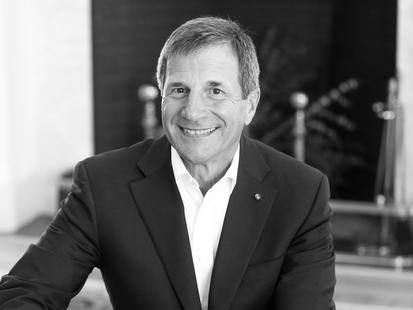 Michael DeCola
MBA '77, CEO, HBM Holdings
Michael A. DeCola (MBA '77) is CEO of HBM Holdings, a St. Louis-based holding company that acquires, builds and operates middle-market businesses. He has also served as CEO of HBM subsidiary Mississippi Lime Company since 1999 and sits on the boards of both companies. Founded by Harry B. Mathews Jr., Mississippi Lime is the leading supplier of calcium products in the United States.
DeCola has been a champion of the University of Virginia Darden School of Business since graduation. A highly engaged class agent and emeritus member of Darden School Foundation Board of Trustees, DeCola serves on the Advancement Committee and acts in an advisory role for the Darden Annual Fund, of which he is a perennial supporter. Last spring, DeCola's company established the HBM Holdings Scholarship Fund at Darden to support future generations of students. He is also a regular visiting lecturer at Darden. 
DeCola earned a bachelor's degree in economics from Franklin and Marshall College, where he serves on the President's Regional Advisory Board. He is also on the advisory boards of numerous companies, including the Metal Exchange Corporation, the Holland Construction Company, the Enterprise Financial Services Corporation, the United Way of Greater St. Louis and the St. Louis Sports Commission.
In 2015, DeCola received the Raven Award from the Raven Society, the University of Virginia's oldest and most prestigious honorary society, in recognition of his incredible service and contribution to the School. He resides in St. Louis with his wife, Lee.
1. What was your first job? 
I actually began working as a caddie at 14. I knew nothing about golf, and as a kid, I didn't get out enough to justify the long drive for my mom to take me to the golf course. After about a month, I got a job as a busboy at a pretty nice restaurant near my home.
2. What's the best advice you have ever received?
Hard work always pays off.
3. When and where do you do your best thinking? 
In the early mornings, while on bike rides, runs or in my den.
4. What's your favorite book of all time — about business or otherwise?
Foundation by Isaac Asimov
5. What's your motto?
Treat everyone with respect and dignity.
6. What characteristics do you look for in people? 
Integrity and drive.
7. How do you measure success? 
Through measurable impact — by leaving things better than I found them.
8. Which natural talent would you most like to have? Why?
I'd like to be a better guitarist. I was an aspiring musician when I was younger, but clearly didn't have the talent to make it a career (thank God).
9. What do you consider your greatest achievements?
Marrying way over my head and raising two phenomenal kids.
10. What music are you listening to lately?
Mostly country, but my last download was "Uptown Funk."
11. What do you do to manage your energy and remain balanced?
I have a fairly disciplined workout schedule that both builds my stamina and provides the mental downtime I need to recharge. My various civic activities help me maintain focus on the need to improve the world, not just HBM Holdings. I stay connected with my friends and family almost constantly, thanks to technology. I have no delusions about being balanced. I'm not, and I have a very understanding family.
12. What are your favorite causes?
Darden and the United Way. Darden changed my life, and the United Way changes the lives of millions of others. It's an honor to be able to give some of myself to both institutions.
13. What's your favorite food and beverage?
Pizza and Diet Pepsi. I need portion control for both.
14. What's next?
Continuing to execute our new strategy at HBM Holdings and preparing to transition the organization to a new leader. We're simultaneously transitioning the board from a generational standpoint. It's very exciting and challenging.
15. Which class at Darden impacted you the most?
"Managing Change."
16. Which Darden professor influenced you the most? 
John Colley, and he still does.
17. What was your favorite experience returning to Darden as a classroom speaker?
I like getting input from current students about issues facing HBM Holdings.
18. What do you most enjoy about being a class agent?
I appreciate the opportunity to stay in touch with my classmates and help them understand how they can contribute to Darden's future.
19. You're chair of the Centennial PGA Championship at Bellerive Country Club in 2018. How is the planning going?
We are actually just getting started, but it is an amazing honor for me and Bellerive. We intend on breaking every standing record for host clubs, so it will be great.
20. How has your Darden MBA degree helped you with HBM's strategy to provide strategic expertise to its portfolio companies? 
In some ways, it is like being back in school. We are investigating new markets and new industries every week. We have to learn quickly and ask the management team the tough questions about where they want to go and how to get there. It is very similar to working through a case.