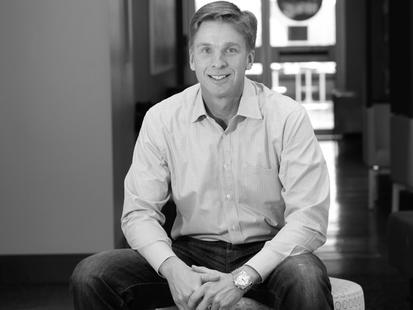 Ned Hooper
MBA '94, Managing Partner, Centerview Capital Technology
Ned Hooper (MBA '94) has been at the forefront of the intersection between technology and business for more than 15 years. After serving as Cisco's chief strategy officer, he now leads Centerview Capital Technology's growth and private equity practice.
At Cisco, Hooper's innovative approach and expertise enabled him to drive the company's growth strategy, increasing Cisco's revenue from $18 billion to more than $46 billion over a 10-year period.
As a member of the Darden School Foundation Board of Trustees, Hooper has been instrumental in helping the School establish and enhance relationships on the West Coast. He hosts an annual Tech Trek dinner with Darden leaders and alumni to discuss the School's West Coast initiatives and to create new cases and research based on pressing technological issues. 
What was your first job?
That depends on your definition of a job, I suppose. I started mowing lawns and pulling weeds for neighbors when I was 11 or 12. My first formal job was as a gopher at an Ace Hardware store.
What's the best advice you have ever received?
After I graduated from college, I met a leading economist. He taught me that you could only be an expert in a focused area. You need to find other people with different experiences and expertise to build a successful business.
Do you prefer numbers or words?
Facts; they can come either way.
What motivates you?
I have a classic type A personality. I need to be in constant motion. I have been trying to focus more on having fun!
When and where do you do your best thinking?
After a run or a workout. Strenuous exercise relaxes me and clears my head.
What are you reading these days?
Right now, I am reading Predictive Analytics: The Power to Predict Who Will Click, Buy, Lie, or Die by Eric Siegel, which is about the use of data and analytics to transform business, and I'm also reading La Roja: How Soccer Conquered Spain and How Spanish Soccer Conquered the World by Jimmy Burns, which is a great modern history of Spain and of Spanish soccer.
What technology can you not live without?
I go crazy if I am not connected, so ubiquitous wireless networking is a must.
What companies do you admire?
Of course, Cisco, where I was privileged to be a part of a team that drove market leadership through three business cycles. At Centerview Capital, we just made an investment in an amazing company: Rich Relevance. They are transforming e-commerce by leveraging new analytical models and machine learning.
What characteristics do you look for in people?
I look for smart people who love to look at problems from all sides and who drive action.
What's the best thing that has happened to you in the last year?
A year and a half ago, I took two months off between Cisco and Centerview. It was the first time I had spent time with my family without a mobile phone glued to my ear. It was hugely refreshing mentally, and we had a great time.
How do you measure success?
I will let you know when I get there.
Which natural talent would you most like to have?
I wish I could pitch in the major leagues.
What is your most treasured possession?
My family.
What have you recently uploaded onto your iPad?
Evernote. Best productivity app in a decade.
How do you unwind?
I love to ski. Our whole family loves it in the mountains.
What's your favorite cause?
My wife, Freya, created onegreatbook.com to help parents find books their children will love. Teaching kids to love to read and learn is the best opportunity to help them succeed over their entire lives.
What's your favorite food and beverage?
My vices are red wine and dark chocolate.
Which Darden professor influenced you the most?
Bob Bruner, whose leadership and commitment to the Darden institution is a great example for all of us.
If you could go back and take a class now, what would it be?
Is there still a class in sales? We are all in sales, but most of us don't realize it.