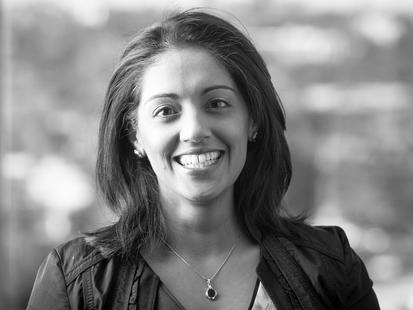 Nishita Henry
MBA '03, Chief Innovation Officer, Deloitte Consulting
Deloitte Consulting recently appointed Nishita Henry (MBA '03) as U.S. Consulting Chief Innovation Officer to guide its national innovation efforts. Henry, who joined Deloitte two years after graduating from Darden, describes her role as "an exciting, external-facing opportunity to work with cutting-edge technologies, engage the startup community and figure out how to incorporate next generation technologies into practical solutions for our clients." 
Henry says she's always been motivated by collaboration, communication and synergy. "From the beginning, even as an electrical engineering student, I liked working in teams and understanding the vision and strategy propelling technology, not just the technology itself." 
In naming one main takeaway from her Darden MBA experience, Henry is quick to answer: "People — and their value as employees. I remember taking an Organizational Behavior course where the professor assured us that, 'If there's one class that will resonate with you over the years, it's this one.' As a technologist, I was skeptical at the time, but he was right. People are the oxygen of every organization, and the people dynamic drives everything from on-the-job behavior, to project outcomes and client satisfaction, to the bottom-line." 
As it turned out, Henry says, "I work for a company that prides itself on seeing its people as its brand and fosters a strong culture of development, recognition and empowerment." 
Henry came to Deloitte's federal practice in 2005, which she describes "as a time of open-ended opportunity. There were only about 250 employees then," she says. "Today, there are over 8,000, so there was a lot of potential to learn and grow." 
Henry leveraged that potential to go on to lead the company's Federal Technology & Architecture, Federal Innovation and, most recently, Federal Technology Practice, where she provided advisory and operations services to every U.S. Cabinet-level agency in government.
"I chose to work with the public sector because I'm drawn to its singular mission," Henry explains. "I truly believe people in government are there out of a sense of making a citizen impact. I like being part of serving a greater public good.
By helping agencies and Congress modernize legacy systems by digitizing operations, implementing cloud strategy or improving their customer experience, Henry says Deloitte is "driving the transformative solutions federal clients want and need to deliver 21st century programs and services for the country." 
Henry acknowledges the uniqueness of federal work. "When you're at the crossroads of business and government, no one day or one experience is like the next. Washington is a city where the rhythms of government shift with each election cycle — administrations change, officials change and agency goals sometimes change. 
"But," she adds, "change is an enabler. Since joining Deloitte, I've probably had a dozen different roles in which I've continually been challenged, re-energized and refreshed as a business leader. From my perspective, consulting in the public sector can offer the best of both worlds." 
Working in a male-dominated field, Henry has a keen interest in advocating for women and believes the effort starts by encouraging girls, like her own two daughters, toward science, technology engineering and math (STEM) fields. Henry recently was elected to the board of the Girl Scouts National Capital Region, where one of her goals is to make sure young girls are involved in STEM education programs and that earning a STEM badge is a sought-after, prized achievement.
"Once women enter the workplace," she says, "the challenge is to create an environment where they feel they can succeed. We have to teach women to take their seat at the table and make their voice heard. We have to provide early stage, hands-on tech experience to give them credibility for when they take on technology leadership roles later in their careers."
Henry recalls that, as an MBA student, she thought she was leaving science of engineering behind for commerce and the marketplace. "I really didn't anticipate the span of career opportunities that have emerged from the integration of business and technology."
As she looks ahead to her role as chief innovation officer, she says, "Innovation is at the core of what we do at Deloitte. I'm eager to search out the best of what's out there so we can drive new, cutting-edge technology solutions to market and deliver outsized results for our clients. It's what I love to do."