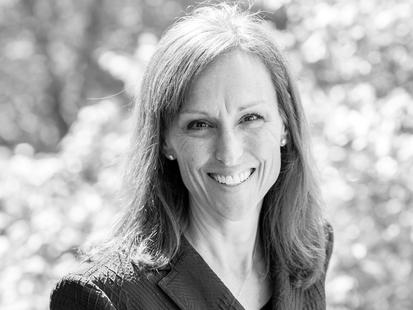 Patty Obermaier
MBA '92, Founder and CEO, Resigility
Patty Obermaier (MBA '92) was in her junior year at the Massachusetts Institute of Technology, planning to be a physician, when she opted to take a few elective business courses. It wasn't long before she reset her career trajectory. 
"I got intrigued by commerce and the marketplace, and soon realized I wanted to combine my passion for the science of health with the 'business of business,'" Obermaier explains. 
Today, Obermaier is the founder and CEO of Resigility LLC — a consulting firm providing strategic information management solutions and organizational performance services to health care organizations. As its name suggests, her company is committed to improving the resiliency and agility of corporations, government agencies and local communities. 
Echoing the Darden School's belief in business' capacity to impact society in a positive, productive way, Obermaier says Resigility's culture is invested in social responsibility.    
"We're a values-driven company," Obermaier says. "We follow a 5-by-5 philosophy where 5 percent of our profits go to charitable organizations building resiliency in their communities, and five days a year our employees volunteer in areas of leadership, agility coaching, and building resiliency in children and communities." 
"Days of service are one of Resigility's core values," she emphasizes. "As an employer, I have an opportunity to give the gift of time, allowing my colleagues to give back, whether it's working in a homeless shelter, mentoring children or teaching an ESL course. 
"From the start, I wanted to build a company that went beyond business services and solutions to inspire neighborhoods and their residents to thrive." 
Entrepreneurship and the challenges of launching a startup have always held high interest for Obermaier. She recalls that, "at Darden, while most of my classmates interviewed with prestigious global firms, I spent my time researching small, newer tech-based or pharmaceutical-based companies. I wanted to follow the road less traveled and take a more opportunistic approach to my career."
Opportunity led Obermaier to work with a number of startups, one of which grew into a multibillion dollar, global business-to-business solutions provider. Of those early years, Obermaier says, "I was really energized by being on the ground floor of cutting-edge businesses coming into the market from the explosive mix of innovation and technology." 
In 2001, despite her conviction that she would have my own business one day, she made a decision to accept a corporate offer. Over the next 14 years, Obermaier leveraged that decision to take on senior leadership roles in both the commercial and public sector sides of Unisys Corp. and, later, IMS Health (now IQVIA). 
"It was the right decision at the right time," Obermaier says, "and my experience with the federal sector gave me insights and understanding that, today, inform my company's work with the Centers for Disease Control and Prevention and the Department of Health and Human Services. 
Obermaier credits one key management touchstone for her success as a corporate leader and an entrepreneur: "I've always encouraged diversity of thought because the opinions and perspectives team members and colleagues bring to the table often evolve into innovative ideas, inventive solutions and potential opportunities that might otherwise go overlooked."
With more than 25 years of experience, Obermaier takes time to share her knowledge and know-how. She is active in her local community and beyond, volunteering as a Girl Scout leader and as a mentor for the Global Good Fund, an international leadership development organization for entrepreneurs committed to solving complex social problems around the world.
By taking the "road less traveled" in her career, Obermaier has established herself among a new breed of leaders delivering new business value by fusing their personal values — and the causes they care about — with their business mission and goals.
"At Resigility," she notes, "we continually ask ourselves two pivotal questions: First, 'Are we helping our client-organization perform at the optimal level to meet its business goal or mission?' And second, 'Is what we're doing helping to support, improve and advance the communities in which we live?'
"To me," Obermaier says, "that's the measure of our worth."