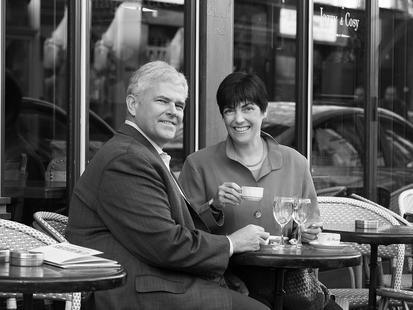 Ro and Martin King
MBA '91, Business leaders
While she worked in the early days of big data at Signet Bank, he learned management, people and how a company fits together, starting on the factory floor. On the night shift at the Richmond, Virginia, headquarters of cigarette-maker Philip Morris, he wore steel-toed shoes and earplugs.
These were the first jobs of Rosemary "Ro" and Martin King after they graduated from the University of Virginia Darden School of Business in 1991.
For the last 24 years, they have crisscrossed the globe and are settling this fall in Asia again, this time in Hong Kong. Martin is now CFO of Philip Morris International, his ninth major career move for the company. Along the way, Ro, with partners, has built and sold a Charlotte, NC data-based marketing firm, Quaero; lectured widely on the topic of global customer experience management; taken Indonesian heritage to new heights; become a certified sommelier; and now serves as chair of the UVA Darden School of Business Global Advisory Council.
The couple's journey together began in the mid-'80s at Harvard University, where they met as "audiovisual geeks;" she as a history and Russian and Soviet Studies major and he in government.
Soon after marrying, they were lured to Darden for its value and reputation and Martin's Virginia family roots. Assigned to different sections, she, a Philadelphia native, was drawn to quantitative analysis, while Martin, a Shermet scholar, was deeply influenced by Professor John Colley, who sparked his interest in operations.
Following their first jobs in Richmond came Charlotte, then New York, then Lisbon, Portugal, where Martin served as managing director for the country. Professor Emeritus Les Grayson influenced their decision to go global.
Less than two years later, Philip Morris sent them from Europe to Beijing, where Martin experienced the complexities of working in a government-controlled market. Said Ro, "I plugged into the Darden alumni network in China. They are amazing. They oriented me."
Indonesia soon came calling, when Martin was asked to lead a $5 billion acquisition there — the company's, and Indonesia's biggest ever.
"Indonesian cigarettes, called kreteks, are made of tobacco and cloves and sometimes rolled by hand," said Ro. "More than 2,000 women work in each of the 20-plus factories. It was a huge opportunity to make a difference for these women and their families, and for farmers as the company planted over a million clove trees."
Over the next four years, Ro and Martin immersed themselves in Indonesian culture. She became chair of the Indonesia Heritage Society and supported educational initiatives in remote areas of Indonesia, writing books and articles about vanishing ethnic groups. She had coffee with sultans, ate slugs and learned how to make a poison arrow.
In 2009, they left the tropics for Swiss efficiency, when Martin was transferred to head Operations in Lausanne, Switzerland, headquarters of Philip Morris International, with sales in 180 markets and factories in more than 40 countries.
There, they bought and renovated a house, and Ro received a Diplôme de Sommellerie en vin and Diplôme de Juré Expert at L'École d'Ingénieurs.
Before their recent move to Hong Kong, a second stop in New York followed, when Martin was made president of the Latin America and Canada business.
Together, they have traveled many roads.
"Darden was the start of our grown-up life," said Ro. "When we left Charlottesville, there was no way in our wildest dreams that we could have ever predicted our life. Yet, when you look back, the road seems clear. It all makes sense, and it all connects to Darden."