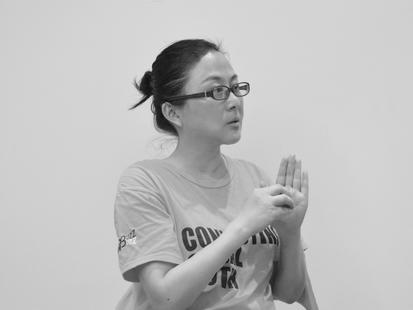 Rong "Shirley" Wang
MBA '05, Founder, BuzzKID
Industry
Entrepreneurship
Areas of Expertise
Innovation & Entrepreneurship, Global Entrepreneurship
Creating a New Model to Teach English in China
The coronavirus pandemic has pushed many companies to the brink. Against the trend, however, online education has become one of the few bright spots. And leading the trend in China is BuzzKID, a language partner mutual-learning online platform founded by University of Virginia Darden School of Business alumna Rong "Shirley" Wang (MBA '05). In the first few months of the pandemic, the number of BuzzKID users increased by 300 percent over the previous year.
Founded in 2018, BuzzKID is the Shanghai-based Wang's second entrepreneurial online education project. And despite many believing online education is a crowded field, she said it's not so for BuzzKID's target market.
"BuzzKID is aimed at high-grade students in elementary school and middle and high school. It belongs to the later stage of English learning and is still a blue ocean," she said. "It strives to build a decentralized interactive English learning platform initiated by and guided by children."
The Power of Peer-to-Peer and Conversational Learning
The biggest problem faced by many online English education institutions is the lack of sustainability in their business models. Foreign teachers who teach 1:1 are highly paid. 
Rather than tap into traditional teacher pools, the teachers registered on the platform are teenagers whose native language is English. This model allows BuzzKID to offer a class for each academic year at half the price or lower than that of similar institutions in the market. Most of the language partners are overseas high school students participating in the gig economy.
According to Wang, she adopts the structured-freedom methodology advocated by youth education experts at Johns Hopkins University to guide foreign children to have dialogues with Chinese children in a standardized manner
In traditional English classrooms, teachers and students engage in a teaching and learning model that is a process of language input. BuzzKID drives children to engage in conversation so that they become a language producer.
Wang tapped into the Darden alumni network to find her first generation of "faculty" for the platform. After learning about her business plan, Wang said the children of Darden alumni opted in to become BuzzKID's first teachers. And those live teachers are a competitive advantage over competing products on the market that lean on artificial intelligence-based teaching.
As of summer 2020, Wang said the number of paying users of BuzzKID has surpassed 10,000. The repurchase rate of BuzzKID is over 70 percent and the recommendation rate is as high as 80 percent, according to Wang.
From Global Manufacturing Giants to Online Startup
After graduating from Darden, Wang earned a full-time job offer from UTC and eventually spent eight years at Danaher. There, she felt surrounded by European and American men. As a young female manager, she said having outstanding ability and a big heart were necessary to succeed.
During those posts, she learned how to earn the respect of colleagues and effectively communicate with customers.
"You have to make your customers understand that I'm here to help you solve problems, not just to make your money," Wang said.
She used soft skills learned at Darden and honed at UTC and Danaher to launch her own business later. With those lessons learned, she often warns teachers on the platform to learn to listen to the demands of parents and users. "If it's just for selling lessons, it must be done well."
Taking the Hard Road in Entrepreneurship
When BuzzKID was founded, Wang won a seed round of funding armed with only a dozen PowerPoint slides and less than half an hour of interviews. At the beginning of 2018, the startup received an angel round of financing of several million renminbi from Chenguang Ventures. However, the success at the beginning gave her the illusion that starting a business was so easy.
However, since the end of 2019, the domestic investment and financing market has cooled down, and the online education industry has suffered a "big reshuffle," according to Wang. The pandemic set off a wave of closures of in-person education and training institutions.
Rather than lose sleep, Wang has embraced the mentality that entrepreneurship is a process of re-understanding human nature. The adversity helped her learn and pivot. During the pandemic, she has worked hard to realign the BuzzKID learning ecosystem; joined hands with downstream learning and education institutions that were locked into a year-round shutdown; and leveraged BuzzKID's platform, technology and supply-side advantages to overcome the difficulties.
Aside from her fellow alumni providing an initial supply of teachers via their children, Darden has made an impact in Wang's life in many ways, laying a solid foundation for her transformation from a marketing worker to a leader of a multinational enterprise. In her Second Year, after receiving "the best prenatal education in the world," Wang gave birth to a daughter. At the graduation ceremony, she took her daughter to the stage to accept her degree.
Choosing Darden because of her desire for a case method education, the School's First Year learning team structure helped her get through challenges in the early stages of studying abroad. The quality of friendships she developed was made clear when many classmates took time off to visit her in the hospital and take care of her when she developed a medical condition during her time as a student.
"Darden's alumni network has always been known for being supportive. Whenever I think of alumni, I am particularly moved," she said.
Born at Darden, her daughter remains a driving force for Wang as she pursues her professional purpose.
"Choosing education is also to let my daughter know more about what her mother does and the meaning of what her mother does," Wang said.