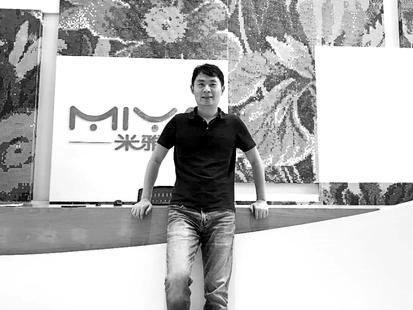 Run Yang
MBA '14, CFO, Miya
Industry
Entrepreneurship
Areas of Expertise
Entrepreneurship and Innovation , Finance, Investment Banking
Embracing Change
Interviewed by Darden student Danyang Shen (Class of 2021)
The professional career of University of Virginia Darden School of Business alumnus Run Yang (MBA '14), CFA, has come with many labels. He has worked at state-owned enterprises, fast-acting online companies, as an investment banker and as a startup CFO.
He currently serves as CFO at Hangzhou Miya Technology, where he is responsible for the company's board of directors, strategic investment and financing, finance, and legal affairs. Prior to joining Miya, Yang worked in corporate and investment banking, including at Citibank and Deutsche Bank. In addition, Yang has worked at Alibaba and China North Industries Corporation for many years, where he gained extensive experience in corporate investment and financing and financial management. 
Leveraging the MBA to Make a Transition
After working for six years following undergraduate studies, Yang wanted to improve himself and use an MBA as a career transition opportunity. He came to the United States and enrolled at the Darden School. During his two years in Charlottesville, he said he experienced challenges and many gains.
At the beginning of the program, the pressure from a heavy load of cases and the need to balance a job search and activities was obvious. But after experiencing it, Yang said he obtained three important gains.
First, he said he accumulated a kind of tangible ability. He said the case method allowed him to develop the ability to be able to speak on any topic. He uses this ability at work and when facing problems to give his opinions with a clear and well-founded point of view.
Second, he said he cultivated self-confidence in the face of uncertainty. Business school is like a scaled-down business world, he said. At Darden, he had to face complicated and uncertain situations every day, including cases, various group projects from extracurricular activities, and even in the process of job searching.
Third, he said he developed very good networking abilities. During his job search, the Darden Career Center and Yang's Second Year coach helped him with everything from polishing his resume and recommendation letter to networking and mock interviews. Through these multi-dimensional personal experiences, Yang said his networking ability improved by leaps and bounds and helped him get an interview and offer with a top investment bank.
Darden alumni often say that when you ask for help from the network, you will always receive positive responses and sincere offers of help. More importantly, Yang said, if you seek opportunities for challenge and self-growth at Darden, you will always find the effort paid back. And in the process, you will continue to gain self-improvement.
Post-MBA Life at Top Investment Banks
Yang joined Citibank's Global Management Training Program after graduation, which allowed him to work in New York and London for one and a half years before finally settling in Beijing. 
During this investment banking experience, Yang said he not only accumulated solid financial analysis skills, but also learned how to independently promote projects beyond his job requirements. Although his work as a support banker mainly involved project execution, he helped the company successfully establish a cooperative relationship with China's fifth largest oil company. His prior experience working for a state-owned enterprise helped him have an in-depth understanding of the client company's culture, personnel and business development methods, which enabled him to help both parties break through key obstacles and reach a final agreement.
Yang said he never set any limits to his job responsibilities at the time, instead focusing on how to accumulate and improve his abilities. 
Embracing a Trend to Join the E-Commerce Industry
After several years of experience in investment banking, Yang decided to embrace a developing trend and joined Alibaba.
"Because I already had work experience in foreign and state-owned enterprises, joining an excellent private enterprise filled up the career puzzle," Yang said. To him, having diversified experiences means higher personal value, strong adaptability, and the ability to survive and be competent in any environment.
At Alibaba, Yang helped Cainiao Network build a treasury system, completed the largest financing project in the history of the company and established a business foreign exchange risk system.
When discussing the challenge of transitioning from investment banking to Alibaba, Yang said the most important thing is to integrate into the company culture. He said Alibaba has an atmosphere of embracing change, which matched his own ideas and experience. He had transferred from a Chinese state-owned enterprise to an MBA, then worked in different countries.
Yang said he actively seeks change, walking out of his comfort zone and embracing changes whenever he can. He has always followed his own thinking and plans for life, and he pursues challenges in different fields in the process of career development. When he accumulates enough experience in his current position and enters a comfort zone, he begins to seek new opportunities, break through the comfort zone and pursue something more challenging.
Moving His Career Ceiling Higher
After working for Alibaba in Hangzhou, Yang stepped out of his comfort zone again and returned to Beijing to work at Deutsche Bank as the head of the technology, media and telecommunications (TMT) industry in China. As an industry leader, he could continue to understand the industry from a relatively high level and accumulate resources to lay a solid foundation for his next career choice.
Only one year after returning to investment banking, Yang was promoted to co-head of the Deutsche Bank Asia Pacific TMT industry. Yang realized he could stay in that senior position for the rest of his career. However, he made a different choice. Embracing change is his consistent style.
In order to open a new career chapter, he chose to join a startup in an emerging industry as the CFO. For him, this could be another important transition in his life that raises his career ceiling yet again.
As CFO of Miya, he hopes to help the company and shareholders succeed by leading the company to a successful public launch in the future. He hopes to learn more about entrepreneurship, building business models, facing more complex scenarios and understanding the elements of entrepreneurial success. When he thinks he is fully prepared, his longer-term plan is to start a business. 
Helping Others Realize Their Dreams
As for his future plans, Yang said he hopes he can start a business and do something more meaningful. He came out of China's rural western areas and needed the help of scholarships and grants to obtain his education. Loans helped him attend Darden.
He believes personal effort is important but understands that sometimes external help is needed and wanted. He hopes to start a public welfare fund to support students who are talented and hardworking but lack funds to achieve their goals, and he hopes to encourage those who are helped to give back so that the fund can continue to help more people.