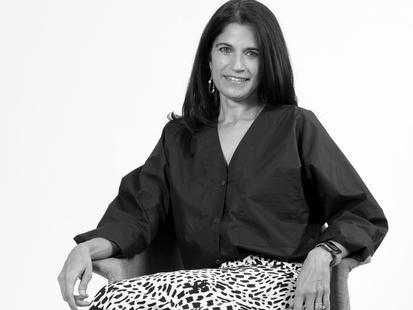 Sandhya Chhabra
EMBA '17, Endocrinologist, Entrepreneur
As an endocrinologist with a successful private practice in Charlottesville, Dr. Sandhya Chhabra (EMBA '17) has established a successful first act of her career. Not long after her graduation, however, the COVID-19 pandemic struck, radically shifting the health care landscape for medical professionals.
It required a strategic reset. Once again, she looked to Darden to help her navigate. In April, Dr. Chhabra completed the six-week Life Design Lab workshop for alumni, sponsored by Darden's Armstrong Center for Career Services. The workshop helped her rethink and redesign her career goals, drawing on her background in medicine, her interest in global health and her entrepreneurial bent.
"I'm very fulfilled in my professional life," said the owner of Albemarle Endocrinology, "but I'm at this phase where my journey got interrupted by the pandemic, and I don't want to pick back up exactly where I left off."
After finishing her MBA in 2017, Dr. Chhabra said she found herself moving through the world "with Darden goggles on." Everywhere she looked, she could see inefficiencies and missed opportunities.
Darden "changes the way you see — not just businesses but the way you see the world."
That mindset empowered her as she worked for several years as a consultant on a project to optimize the medical management of diabetes in low-income patients residing in rural areas.
"That's exciting to me — to touch the underserved population. It's one of the reasons most physicians go into medicine, to reach people who don't have access to the kind of health care that many of us take for granted," Dr. Chhabra said.
The consulting experience, combined with additional work-life flexibility and family connections, have whet her appetite to pursue a higher purpose with patients on a more global level.
"I never would have pictured doing work outside of the U.S. five years ago, because I couldn't just up and go be in another country with my husband and kids committed to this area," she said.
She's still in the early phases of this self-discovery process but, she says, "I don't think I'm alone on this bizarre post-pandemic journey."
Instead, she has the support and opportunities that come with being part of the Darden alumni network.
"I'm more interested in meaningful change than in just monetizing a good idea," she said. "I was pleasantly surprised that so many people at Darden just wanted to make more meaning of their life, and not just make more money in their life."