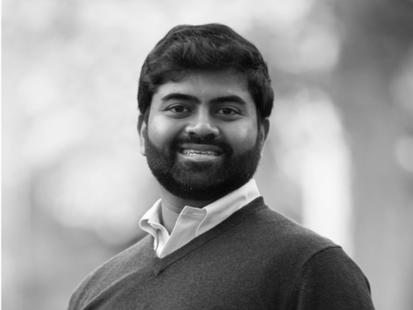 Sid Pailla
MBA '15, Founder, Sunny Day Fund
Growing up an only child in an immigrant family, Sid Pailla (MBA '15) saw firsthand how important finances are to the life of a family. He learned that liquid assets can be either a barrier to opportunity or the key that unlocks it — and that in America, the keys were not always handed out equally.
Now, Pailla — who is a quadruple Hoo, having received a bachelor's, master's, MBA, and Ph.D. from the University — hopes to use the advantages he gained at Darden to promote financial inclusivity for American workers. While at Darden, he founded Sunny Day Fund, a platform for emergency and personal savings to be provided to workers as an employment benefit. Employees receive an FDIC-insured account they can use to save for emergencies or planned expenses, while matched contributions from their employers provide a better return compared to a traditional savings account. 
Compared to retirement funds, Pailla considers Sunny Day Fund's short-term savings model better suited to the realities of work and personal finance today. The employee receives support to build up liquid assets and lessen their financial stress, which in turn boosts their productivity. In contrast to a 401(k), there is no paperwork and no penalty to make withdrawals from a Sunny Day Fund account. Meanwhile, the employer can use this unconventional benefit to attract and keep talent during a time when voluntary turnover — with all the associated costs to hire and train new talent — is on the rise in America.
Pailla, who went full-time on Sunny Day Fund in early 2019, had just left his job at Accenture and was raising a friends-and-family round when the coronavirus pandemic hit. It felt like the worst possible time to be taking a big swing. 
But he realized that the pandemic was proving the need for savings that would be accessible on both a rainy day and a sunny day. The volatility of the economy was escalating the urgency of his mission at the same time that it delayed his plans to achieve it, and his circumstances began to seem just as much an opportunity as they were an obstacle. After all, if not now, when?
So he stayed, buoyed by the support of his wife, Sarah Bingol, who is a 2013 University of Virginia graduate and has helped hone the startup's communications and investor pitch.
Sunny Day Fund was accepted to Lighthouse Labs, a Richmond-based startup accelerator, providing momentum as Pailla attempts to disrupt the $28-trillion-dollar retirement savings industry, which has decades of marketing and cultural cachet in its favor, Referring to the insight he gained during his Ph.D. in systems engineering, Pailla emphasizes purpose-driven disruption: "When we think about disruption, we're mostly focused on the 'how' — but the necessary aspect to how we do something is the goal we want to achieve."
For Pailla, that goal is inclusivity. 
The pandemic has forced the financial precarity of American workers into the spotlight, but Americans of color have been hit particularly hard. According to this year's Marketplace-Edison Research Poll, 47 percent of all Americans would find it difficult to pay for an unexpected expense of only $250. And this aggregate number hides racial disparities that are striking. Compared to 32 percent of white respondents, Black and Latino respondents were 26 and 22 percentage points more likely to struggle to come up with $250. 
For Pailla, these numbers point to the need for paired solutions for health and wealth. As he puts it, "We're telling people to wear masks, which is great for protecting public health, but it doesn't address what's first on people's minds: making rent and buying groceries." 
Supporting equal opportunity for immigrants, people of color, and residents of disadvantaged rural and urban communities is a matter of both personal and professional urgency for Pailla. He says that he has felt like an underdog at times, but he's grateful. Building trust with customers in the mid-Atlantic and South as an immigrant and a person of color has required persistence, but the community at Darden has opened doors to him. 
Meanwhile, Pailla has learned valuable lessons about practicing diversity, equity and inclusion on his own team. When asked how to foster an inclusive culture, he says, "You have to be more than mindful, you have to be active. The recruiting pipeline is not an excuse. You have to operationalize it." 
Next, Pailla is focused on growth: growing his family, growing his company and growing his impact. When he anticipates how Sunny Day Fund might disrupt the personal-finance sector, Pailla envisions federal policies to empower short-term savings, much like the tax incentives that already exist for retirement savings. He sends his state senator letters urging reform: "You have to think about the individual from cradle to grave," he says. "You're just thinking about the grave."
In the meantime, he's passionate about advancing financial well-being, employee retention and productivity on a company-by-company basis as Sunny Day Fund signs on new customers.
Sunny Day Fund is raising its seed round and hiring for roles in sales, product, partnerships and operations. Pailla says, "To members of the Darden community looking to transform the world: reach out."