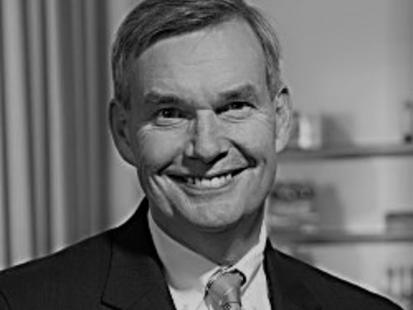 Steve Voorhees
MBA '80, CEO, WestRock
CEO of Westrock Champions the Case Method
When Steve Voorhees (MBA '80) was a Darden student, the School occupied what is now the UVA Law School Grounds. Voorhees hadn't set foot on the new Darden Grounds, which opened in 1995, until four or five years ago. But when he did, he instantly felt at home.
"The feel of the School was unchanged from when I had been there — even though it was a totally different physical campus," he said. "The culture of Darden is just remarkable."
That culture, rooted in the case method approach of tackling real business problems, was what Voorhees was looking for when he came to Darden for an MBA in 1978, and what motivates him to continue supporting the School today.
As an undergraduate at Northwestern, Voorhees burned out on the lecture and exam style of teaching, and came to Darden specifically to be educated in the case method. "I think it's a better way to learn, a more fun and engaging way," he said.
Currently CEO of WestRock, a multinational paper and packaging company, Voorhees started out in corporate planning and then rose through the ranks at Sonat, a diversified energy company, and RockTenn, a predecessor of WestRock. His Darden training has served him along the way, he said.
In fact, Voorhees is such a fan of the case method that he and his family sponsored a learning team room at Darden in its honor. With his generous gift to the Dean's Discretionary Endowment Fund, a study room on the first floor of the Classroom Building was officially named the Voorhees Study Group Room and dedicated "In Honor of the Case Method and the Darden Learning Experience."
As it happens, it's the room where Voorhees's son Paul (MBA '14) spent many hours during his own First Year at Darden, working on cases with his learning team. Paul is now a senior financial analyst at Opel, General Motors' European subsidiary, and the family plans to continue supporting Darden's future.
"Darden provided me the transformational educational experience of my lifetime," Voorhees said. "It's very easy to give back."