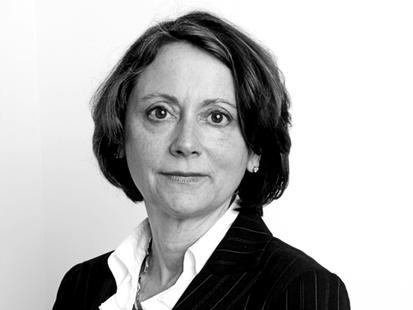 Susan Webb
MBA '84, Founder and CIO, Appomattox Advisory
Tapping Purpose, Adaptability to Break Barriers in Asset Management
As a member of one of the first co-ed undergraduate classes at the University of Virginia, Susan Webb's (MBA '84) pursuit of a career in finance began in the crucible of a hostile environment. Walking into her first day of statistics class, she was told by her professor, "You're just going to get pregnant, so don't waste my time." How did she react? "I said, 'Thank you, sir,' and left, and signed up for another stats class."
Faced with adversity, Webb learned self-reliance: "You've got to know when to just walk away," she says.
Later, at UVA's Darden School of Business, Webb flourished. She found support from professors and peers who gave her the confidence she would draw upon later on Wall Street, in an industry as male-dominated now as it was then. "It's like everything in life," she says. "You have to learn to adapt, but without compromising your own standards."
Over nearly two decades as a trader, Webb became passionate about improving opportunities for women and minorities in the asset management industry, in which "diverse-owned managers control just 1.3 percent of all U.S.-based managers' assets," despite comprising a disproportionately large number of the top-quartile performers, according to the 2018 Diverse Asset Management Study by Bella Private Markets. So, when Webb founded her own investment management firm in 2005, Appomattox Advisory, she was determined to make the change she wanted to see in the industry.
Appomattox Advisory's approach to asset management is informed by the risk management strategies Webb acquired over 17 years on the trading floor, where she gained an appreciation for a holistic portfolio as well as a sharp instinct for locating risk and minimizing downside.
In its work with endowments, foundations and pension funds, Appomattox Advisory prioritizes resilient, client-driven portfolios while maintaining a specialized mandate for female and diverse managers. Appomattox Advisory is remarkable among investment management firms for the fact that a full 25 percent of the managers they allocate to are women and minorities.
Webb identifies diversity as a primary value: She believes that diversity in the race, gender and life experiences of asset managers is just as beneficial to returns as the diversity of assets in the portfolio.
As part of her commitment, Webb serves on three advisory boards dedicated to cultivating female talent in finance and has testified to the U.S. House Committee on Financial Services about the problem of female underrepresentation in asset management.
When asked what she would like to see change on Wall Street, Webb's answer is firm: Don't only allocate to the big guys. Allocate to small and emerging managers, too. Allocate to women-owned and minority-owned firms. They'll outperform, if given the chance.