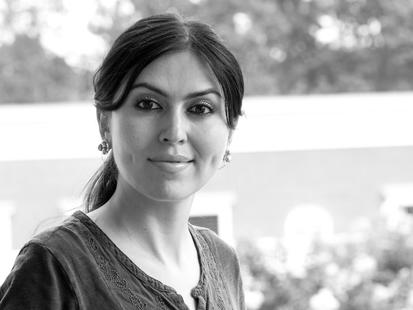 Tahmina Day
GEMBA '14, Risk Manager, CIT
Even at an early age, Tahmina Nurova Day (GEMBA '14) knew she was destined for Darden. As a young child, she swapped fairy tale stories for tales about business deals. Her favorite book, Timm Thaler (or The Traded Laughter) by James Kruss, chronicles how a 13-year-old boy ends up selling his irresistible laugh in a deal with the devil. "I was amazed by the plot of the book … of a little boy who became a victim of the circumstances that made him go through business trade-offs," said Day, who was also "fascinated learning about stock, manufacturing, marketing and contracts" when most of her grade school friends were playing dress up and make-believe games. 
These days, Day spends her time on the business deals she dreamed of as a child in her work as a corporate governance officer with International Finance Corporation, a member of the World Bank Group. Since she started in 2007, she has designed and implemented several advisory projects, and provided consulting services to more than 80 companies and banks on internal controls and corporate governance, which has resulted in more than $250 million worth of investments. In 2013, she earned the Rising Star on Corporate Governance award from the Millstein Center for Global Markets and Corporate Ownership at Columbia Law School.
Growing up in Dushanbe, Tajikistan, when it was still part of the Soviet Union offered her family "incredible social protection and security," said Day. While she admits the system had its flaws, "it gave people peace of mind and let us all focus on things that matter: families and relationships." For Day, fostering close connections has remained integral to her approach to life.
Day follows in her family's footsteps when it comes to mentorship. "My parents did not have to lecture me on what is right and wrong, they led by example," she said. "I simulated their language, habits and behaviors. That is the most powerful and convincing type of leadership I have experienced." She also learned early on to "do what is right, not what is easy."
Now, in her role at IFC and in her personal life, Day works hard to create a sense of balance in the hopes that it will compel others to reach their true sense of purpose. "Inspiring people is my greatest achievement," she said. Day also mentors entrepreneurs at an IT business incubator in her home country, where she has taught lean startup training, a concept she learned while at Darden.
Day said she also learned to become "more patient, self-conscious and empathetic" at Darden. "Nurturing existing professional relationships and building new rapport is so much easier and enjoyable now," she said.
In the coming years, Day looks forward to exploring new industries and taking on innovative projects. She and her husband are in the midst of creating a new private biotech fund, which she believes will help her "explore the risky but fascinating world of startups and equity financing."