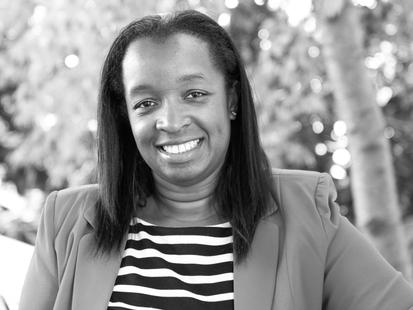 Tawana Burnett
MBA '04, Global Group Lead, Facebook
Before joining Facebook, Tawana Burnett (MBA '04) worked for several years in the health care industry at Pfizer, developing strategies and portfolios for upper respiratory and personal care brands including Advil Cold and Sinus, Robitussin, Dimetapp, ChapStick and Preparation H.
Burnett has more than a decade of progressive product and campaign development experience with consumer, over-the-counter, mobile and software-as-a-service product categories. Before Darden, Burnett worked with small startup and technology firms as a management consultant for seven years. She has a passion for discovering and refining consumer insights, new product development/disruptive technologies, brand strategy and social media.
Burnett serves on the Dean's Diversity Advisory Council at Darden.
What's a typical day like for you at work? 

I start out my week by identifying the top priorities that will help to drive the business. It could start with a 9 a.m. team meeting in which we discuss business performance and priorities across  brands. I generally meet with someone from finance on a daily or weekly basis to evaluate the profit and loss for risks and opportunities in the next period or in the next fiscal year. Throughout the day, I meet with other cross-functional leaders to solve problems or make decisions about new opportunities in retail or in other markets around the world. 
How has Darden impacted your life?
Darden was a true transformative experience for me, first in providing a learning environment that was rich with a lot of data, debate and decision-making opportunities. I had an opportunity to practice sharing my point of view on a wide variety of subjects with varying levels of complexity. There were also so many opportunities to continue demonstrating leadership and making some of the best friends I have, with whom I still spend time today. Since I was also a Consortium Fellow at Darden, I had a chance to participate in that unique experience, which created an even greater network for me that I was able to lean on when I moved with my family across the country to California. 

What's the most memorable experience you had as a student at Darden? 

The days and nights I spent with my learning team in my first year. Christine, Ali, Mark, Rahul, Brent and Kimberly are all forever positively etched into my experience. We spent a lot of time together, and it was a very supportive team for which I will forever be thankful.  

What's the most memorable experience you have had as a Darden alumna? 

Talking on the phone or in person with prospective students and remembering the application process and the road to Darden. It's nice to be able to give back by simply answering some questions or sharing my experience. When I applied to Darden, the consistent outreach and valuable time offered up by Darden alumni was very distinct. 

What's the best advice you have ever received? 

Challenge your assumptions and be open to hearing other perspectives that are different from your own. 

What's your personal motto? 

Pursue greatness but always stay humble. 

How do you measure success? 

By the family and friends I am able to share my life with. 

What motivates you? 

I'm not sure if I have much by way of external motivation; for me, that's mostly internal, but I am inspired daily by others who overcome seemingly impossible obstacles or people who are extremely committed to improving their lives or the lives of others.