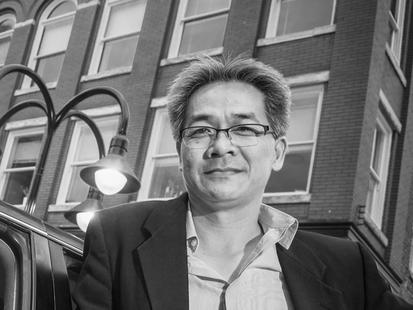 Toan Nguyen
MBA '94, Co-Founder, Community Investment Collaborative
Industry
Government/Nonprofit
In Charlottesville, Toan Nguyen (MBA '94) is chipping away at poverty — not through handouts, but by growing social entrepreneurship. Nguyen is co-founder of the Community Investment Collaborative (CIC), a nonprofit organization that provides individuals in the Charlottesville area — particularly those who come from low-income households and lack college degrees — with training, mentorship and loans to launch their own businesses. The goal is twofold: to help people become self-sufficient through entrepreneurship and to boost the area's economy through the creation of local businesses.
Since its inception in 2011, CIC has helped 51 entrepreneurs launch businesses ranging from a hair salon to a landscaping company to a gluten-free bakery. One such entrepreneur is Charles Childs, a 38-year-old handicapped man who was living off food stamps and in subsidized housing before he enrolled in CIC's program. Today, he is the founder and owner of Zoom Zoom Transportation, a taxi service that caters to people in wheelchairs.
"His business is thriving," said Nguyen, who started his own business, C'ville Coffee, in 2000. "He's actually making so much that he got kicked out of subsidized housing. He is so happy to be moving out of there."
In 2013, after observing that many small businesses in the area needed sales, marketing and accounting support, Nguyen started a second organization: C'ville Central, a benefit corporation that helps local business owners by contracting their services to large institutions, such as the University of Virginia and Martha Jefferson Hospital. In its first year, the corporation managed $100,000 in contracts on behalf of entrepreneurs.
"It's been transformative," Nguyen said. "For example, we have a master painter who went from having scraps of jobs to being the big man on the job. Before, he was stooping. Now he walks around with his head up high."
Helping people comes naturally to Nguyen, who was born in Vietnam and raised in Brussels, Belgium. When Nguyen was a child, his grandfather, who served as the ambassador to Japan for the French government, was an excellent role model who demonstrated the importance of serving one's community and helping the disadvantaged.
Nguyen is carrying that legacy forward, but through a different vehicle: business. And this, he believes, is the wave of the future.
"Social entrepreneurism is the tsunami that will sweep through America in the next decade," he said. "In the past, the burden of taking care of people fell on the government. Now, there's a new paradigm to use the power of business to do that. We're turning a liability into an asset."