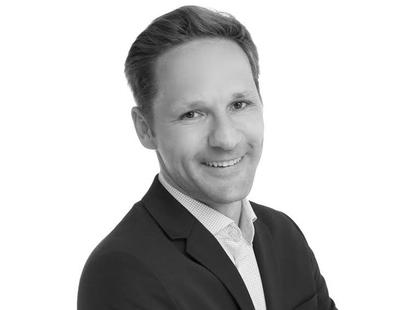 Tobias Wessels
MBA '07, CEO, Rebound Travel Technologies
City
Sunnyvale, California
At first glance, launching a business in the travel and hospitality industry in the middle of a crippling pandemic might not seem like a good idea. But now is the perfect time, says Darden School alumnus Tobias Wessels (MBA '07), CEO of Rebound Travel Technologies, a Silicon Valley fintech startup.
Travel restrictions during the COVID-19 pandemic have exaggerated what already was a dire situation, particularly for airlines. They suffer from low credit on average and are notoriously cash poor. Widespread flight cancellations have drained coffers even further.
"The airlines don't like that at all. It can put them into bankruptcy," says Wessels, a native of Germany. "Cash refunds are a $50 billion problem for the U.S. airline industry alone." 
Travelers who walk away with cash refunds can spend the money with a competitor. Rebound helps companies retain refunds and build future loyalty by giving customers a choice between a refund and noncash options, Wessels says. 
"Companies still offer customers that refund, but they give them other options to choose from as well — attractive noncash offers with a higher dollar value. This allows companies to keep cash in these very difficult times." 
By giving customers a choice and addressing major churn in the travel space, Rebound has created a new cash-retention business category. Wessels calls it "keep the cash, keep the customer." When travelers choose a refund alternative, the airline can keep the purchases in-house. 
"In the past, no one paid much attention to how much cash is going out. We've always focused on bringing in more money, trying to upsell you," he says. "What does it take to sway a person away from the money they have a right to [have refunded] to something that's easier for airlines to manufacture?"
Wessels is a tech veteran who has worked with airline partners around the world. After graduating from Darden, he was CFO of Google[x] and president of Darden's San Francisco Bay Area alumni chapter.
"We're more techies, less bowties," Wessels says about the Bay Area Darden network. "Although not as big as the Darden network on the East Coast, the local Silicon Valley network is extremely tight-knit and supportive and especially curious when it comes to innovative solutions."
After five years, he joined Adara Inc. through a connection with fellow Darden graduate Scott Garner (MBA '96), the world's largest travel data firm. There, he oversaw partnerships with 150 travel companies. Using permissioned data that revealed customer buying habits and preferences, Adara recommended complementary products, such as hotel accommodations and rental cars, tailored to partners' customers.
Wessels founded Rebound to take that approach a step further. The company works with airline finance executives, who decide how much of their expected outflow — from refunds, lost suitcases, denied boarding or customer service issues — they would like to retain. Based on the percentage of outflow the airline wants to keep, Rebound determines a dollar value for refund alternatives. Using industry and proprietary customer data, it creates offers to compete with the standard refunds. 
"If you want to keep 40 percent of money that goes out the door, I need to create an offer that is 25 percent better than the refund amount," Wessels says. "If you want to retain 50 percent of projected outflow, the offer amount goes up."
A customer whose $2,000 flight from Rochester to Miami is canceled can use Rebound's platform to select from a variety of reimbursement options, choosing the cash refund or voluntarily giving it up for a $2,400 travel certificate offering a mix of hotel, flight and other amenities. Rebound earns a commission on funds retained.
"It complies with the law because the company is ready to give you a refund, but by what we know through machine learning, we give you an offer that could be too good to refuse," Wessels says.
The company was also shaped by ideas forged during Wessels experience at Darden. "I really enjoyed my negotiations classes with Professor Larry Franklin and the idea 'to always look for common ground,'" Wessels says. "Over many years working, this idea stuck with me and ended up in Rebound where companies find common ground with their customers.
Rebound's team of eight — IT experts and executives — all have travel and data experience. UVA graduate Mark Schwab, former CEO of Star Alliance, the largest airline alliance in the world, is a board adviser. The company has caught the eye of angel and private investors, fielding invites to present at conferences and winning industry contests. Wessels plans a global reach.
"We've used this starting point to really help the hospitality industry, but more industries can benefit from this," Wessels says. "Retail alone has $600 billion in returns globally every year. We think there's this opportunity to actually bring this cash retention idea to all companies, including retail, down the road."