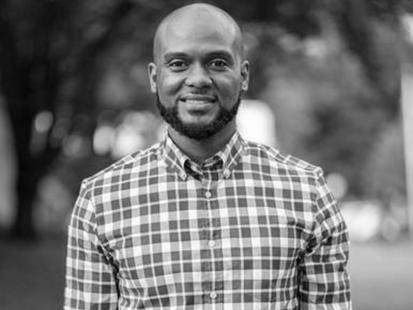 Vincent Harris
MBA '09, Co-founder and CEO, Hoozip.com
Industry
Entrepreneurship
When Vincent Harris (MBA '09) launched his tech startup, Hoozip.com, in 2016, he became the third generation of entrepreneurs in his family.
That said, the experience of the two generations before him — his grandfather and father — wouldn't necessarily have inspired confidence after their efforts led to a series of bankruptcies, repossessions and foreclosures.
"It was tough because I have definitely seen the wheels come off this thing before," Harris said. "In Black and brown communities, there's not a lot of knowledge about wealth-building, and there is scant access to risk capital, so when you watch an entrepreneurial bet end poorly, the experience can scar you. But empirically, I knew I had taken the right steps. And I knew that Darden had given me a set of skills and connections that are powerful enough that — even if this goes south — I'm going to be able to land somewhere and be fine."
When Harris, a former investment adviser and amateur filmmaker, first enrolled at Darden, his goal was to do something on the business side of the entertainment business. He was a summer intern at Disney in a strategic marketing role and, during his Second Year, he worked at ATO Pictures, a motion picture finance, production and distribution company founded by musician Dave Matthews and music executive Coran Capshaw.
At ATO, Harris was tasked with running a fund for African American content. "This was everything I wanted — a finance role and making content decisions. But then the 2008 financial crisis happened and that shot the whole plan to smithereens."
Instead, immediately after graduating with his MBA, he leapt into a principal investing role at Prudential Capital Group, a $60 billion fund targeting middle market investment opportunities. The financial security offered by that job allowed Harris and his wife to acquire real estate investments on the side.
"You certainly don't land that job without Darden skills," Harris said.  "It was not the target I had in mind, but it is a wonderful firm with brilliant people, and it gave me the runway to land here." 
"Here" is Hoozip.com, a 12-person company that builds lead-generation software for real estate professionals. 
The company's flagship product "helps salespeople have better phone conversations," according to Harris. He and his co-founder, Justin Winthers, hold a patent on a technology that aggregates residential property information and "fuses it with homeowners' demographic and psychographic data" in real time.
The instant intel helps real estate investors like him identify prospects and personalize sales and marketing interactions.  
Although Harris and the company are based mostly in New York City, its roots run straight through Charlottesville. Harris knew UVA McIntire School graduate Winthers from their undergraduate days on Grounds, and a Darden classmate helped the team land a seed round of venture capital.
And the name? "It's definitely a nod to the great Wahoo," Harris said with a smile.