Admissions
Part-Time MBA - Application Process
Application Process
The UVA Darden Part-Time MBA program offers frequent deadlines for working professionals. Learn more about the Darden School's Application Process. 
Your MBA Starts Here
View the application guidelines for more information on best practices for test waivers and how to earn an application fee waiver. 
Below, find a step-by-step guide to Darden's Part-Time MBA program application process. Please contact us at [email protected] or schedule a conversation at the link above if you need to discuss the specific content or timing of your application. 
Reapplicants:
If you applied in our prior admissions cycle for any format of the Darden MBA (Full-Time MBA, Executive MBA, Part-Time MBA), we would be happy to copy your application over to our new application period. To request this action, please complete and submit our Reapplicant Request Form. 
Reapplicants will need to provide answers to any new questions, and it is always a best practice to review previously submitted information for accuracy. In addition, all reapplicants are required to submit a new recommendation with their application.
Deadlines:
We offer a series of Part-Time MBA application deadlines, and we will continue to accept applications until our class fills. Each deadline is focused on a single enrollment date, and as the Deadlines page indicates, each deadline functions as a discrete round within our broader admissions cycle. 
Application Review Process:
Interviews are offered on an invitation-only basis, and the initial application review determines interview invitations. Most applicants are notified of their interview invitation within a day or two of application submission, but interview invitations can be extended until the decision release date for the round.
The second and "final" application review is more extensive, and it involves multiple levels of evaluation. 
There is a target release date for each round, and all Admissions decisions and most scholarship decisions (admitted applicants only) are released for the round in question on the designated date. 
All applications are under consideration, and therefore eligible for an interview invitation, up to the official decision release date for the round in question. An interview is required for an applicant to be eligible for an offer of admission.
Decision Outcomes
We have four decision outcomes in our Part-Time MBA application process: 1) Admit 2) Conditional Admit (additional action required - for example, quantitative coursework) 3) Waitlist 4) Deny
Candidates who receive a conditional offer will need to take some action - for example, earn a B+ or better in two online courses in the area of Accounting or Finance - to receive a full offer of admission. 
All admitted students are evaluated for all available scholarships. Candidates who receive a conditional offer will be evaluated for a scholarship award once they satisfy their offer condition.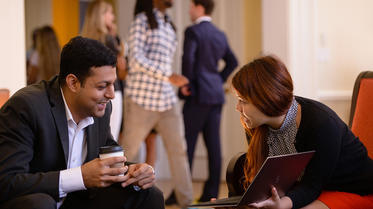 Deadlines
We offer a number of deadlines throughout the year, and we encourage you to target the deadline that best aligns with your plans. Find the deadline that is right for you.