Partnership for Leaders in Education
UVA-PLE - People
PLE Leadership Team

BRANNON GASKINS, DISTRICT SUPPORT CHIEF
Brannon F. Gaskins recently served as Deputy Superintendent/Chief Academic Officer with the Clarke County Schools in Athens, GA.  In his role, he oversaw the Instructional Services and School Performance Division that included leadership development, teaching and learning, data and research, assessment, federal programs, school counseling, exceptional education, and professional learning offices.  He also oversaw the district's 21 schools, charter system and grants office, early learning programs, and alternative school programming.
Brannon has also served as Area Executive Director in Fulton Schools in Atlanta, GA.  During his tenure, he over saw the Achievement Zone. The success of Achievement Zone was evident in the district's partnership with the University of Virginia's Partnership with Leaders in Education.  The Achievement Zone's high school increased its graduation by 30% in three years, three schools were removed from the state's chronically failing school's list, and 80% of schools achieved improvements on state's accountability rating during the partnership.  
Brannon began his career in Atlanta, GA, serving as an elementary teacher, academic coach, and principal.  He is a certified reading specialist, holds advanced degrees from Georgia State University, a B.S. from Tennessee State University, and pursuing is doctorate in education from Kennesaw State University.
SCOTT GUGGENHEIMER, CHIEF OF PROGRAMS
Scott Guggenheimer is the chief of programs of the UVA-PLE. Before his current role, Guggenheimer served as director of leadership development for District of Columbia Public Schools (DCPS) and as the executive director of African-American Teaching Fellows. 
In these roles, he has designed and delivered high-quality programming for college students, teachers, school administrators, central office staff, and senior leadership. At DCPS, he helped shape the leadership journey of aspiring principals, with the goal of providing the most powerful learning experience of their lives, thereby empowering new principals to work for transformative change in their schools.  
Scott's background is as an English teacher and administrator in a Title I high school in Washington, D.C. He earned his B.A at Washington and Lee University.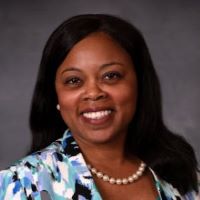 LATOYA HARRISON, DISTRICT SUPPORT CHIEF
Before joining the PLE, LaToya served as the Chief Academic Officer in Chesapeake Public Schools. In this role, she oversaw all areas of teaching and learning, including curriculum and instruction, assessment, college and career readiness, academic support, and exceptional education for the division's 47 schools. She also served as the Assistant Superintendent of Curriculum and Instruction and as Interim Superintendent in Suffolk Public Schools, where she led the division in increasing student achievement, improving graduation rates, and achieving full accreditation. 
LaToya has also served as an Executive Director in Charlotte-Mecklenburg Schools (CMS), where she helped pioneer the Central Elementary Zone, which provided strategic leadership and support to 49 Title I Elementary Schools. During her time in CMS, she supported various strategic staffing and talent management initiatives.
LaToya began her career journey in Washington, DC, serving as an elementary teacher and principal. She also founded SOAR Education, Inc., a 501(c)3 nonprofit organization that provided academic and social support to students from disadvantaged communities.  LaToya holds an Ed.D. from the Urban Superintendents Program at Harvard University, an Ed.M. in Education Policy and Management from Harvard, an M.Ed. from Regent University, and a B.A. in Sociology from the College of William and Mary.  
BIAZE HOUSTON, DISTRICT SUPPORT CHIEF
Biaze Houston previously served as a director in Aurora Public Schools, where she led the development support for curriculum and instruction in Math, ELA, Health, Science, Social Studies, and electives. Dr. Houston also led the system-wide scaling of the district's assessment strategy through the execution of the Data-Driven Instructional practices model, the programming, identification, and advanced learning plan development and implementation by the Gifted and Talented district team, and the planning & execution of associated professional learning for school-based and central office educators across the district. 
Biaze has over a decade of school-level experience as a teacher, teacher leader, assistant principal, and principal. As a middle school principal and PLE participant, Biaze and her staff earned the Center of Excellence Award from the Colorado Department of Education for the level of growth achieved as a Title I school in 2017 and 2019, moving off the state accountability clock to the highest state performance rating. 
Biaze holds a Bachelor of Arts degree in English from Colorado State University, a Master of Arts degree in Teaching from the University of Phoenix, and a Doctor of Philosophy in Curriculum and Instruction from the University of Denver. In her spare time, Biaze enjoys spending time with her husband and two daughters. 
TONYA KALES, DISTRICT SUPPORT CHIEF
As a veteran PLE District Support Chief, Tonya Kales serves as the lead for core partnership districts committed to changes necessary to deliver on the promise of a free high quality public education for all our scholars. She has partnered with districts that represent rural, suburban, and urban communities from Texas, Oklahoma, Florida, Arizona, and Pennsylvania to name a few. Several of her partner districts, Gallup, New Mexico, Fulton Georgia, and Aurora Colorado have been highlighted in research articles for their tremendous academic gains through establishing the conditions at the district level while building leadership capacity at the school level. Her executive education sessions provide engaging, hands-on adult learning focused on school organizational design, district instructional infrastructure and principal supervision.
Prior to joining the PLE, Tonya served over 20 years in the Charlotte Mecklenburg School District, Charlotte NC, as teacher, literacy coach, strategic staffing school leader and district Learning Community Superintendent. She was recognized for the academic gains of her scholars in every role she was assigned. In addition, she has been awarded National Board Certification, a NC Principal Fellow, and CMS District Principal of the Year. Through her partnerships with Teach for America, New Leaders, Educational Resource Strategies and Public Impact alongside her work at UVA PLE, Tonya continues to align herself with organizations focused on addressing the needs in the most under resourced communities across the country.
A native of Charlotte, NC, she holds a bachelor's degree in Elementary Education and master's degrees in School Administration as well as Curriculum and Instruction from the University of North Carolina-Charlotte.
LEIGHANN LENTI, CHIEF OF PARTNERSHIP
Leighann Lenti joined the UVA-PLE as chief of partnership in 2018. Before joining the UVA-PLE, she spent nearly three years at the College Board and five years at the New Mexico Public Education Department. While serving as the deputy secretary for policy and program in New Mexico, Lenti oversaw the state's implementation of standards and assessments, school accountability, teacher evaluation, options for parents, pre-K and early literacy, college and career readiness, and school turnaround — including working with New Mexico school districts while they were PLE partners.
Lenti has over 18 years of experience working on education policy at the federal and state levels, including in the U.S. Senate, U.S. Department of Education, the New Mexico Public Education Department, and the Office of California Governor Arnold Schwarzenegger. Lenti earned an M.A. in politics and education from Teacher's College at Columbia University in New York City and a B.A. in integrative and liberal studies for education from George Mason University in Fairfax, Virginia.
COBY MEYERS, CHIEF OF RESEARCH
In addition to his role with the UVA-PLE, Coby Meyers is an associate professor of education at UVA's School of Education and Human Development. Before joining the UVA-PLE in 2015, Meyers was the senior researcher at American Institutes for Research (AIR), where he managed AIR's work in the Regional Educational Laboratory (REL) Northeast and Islands. Meyers also led a beating-the-odds study for REL Midwest, working to identify schools achieving at higher levels than expected and analyzing organizational factors that might be related to those achievement levels.  
  
Meyers has played integral roles in various school turnaround initiatives, an area in which he has presented and published, including co-authoring the book Turning Around Failing Schools: Lessons from the Organizational Sciences and multiple journal articles. He was recognized in 2012 with the Emerging Scholar Award by the American Educational Research Association special-interest group School Turnaround and Reform. 
  
After working as a middle and high school literature teacher, Meyers attained a master's degree in secondary education at the University of Kentucky and earned his doctorate in education leadership, policy, and organizations at Vanderbilt University. 
WILLIAM ROBINSON, EXECUTIVE DIRECTOR
William Robinson is the executive director of the University of Virginia's Partnership for Leaders in Education (UVA-PLE). Robinson has been with the UVA-PLE since 2010, initially overseeing efforts to transform how the partnership supports district partners and builds executive education programs focused on systemic change. 

Robinson is a graduate of Harvard Business School and an Education Pioneers alumnus. Before joining the UVA-PLE, he completed consulting work for various education organizations, including the D.C. Public Education Fund, the Center for Better Schools, and Stand for Children. Robinson began his career at McMaster-Carr Supply Co., where he helped manage its supply chain operations in Atlanta. Robinson earned his B.A. in economics from Princeton University. 
DARA WILSON, DISTRICT SUPPORT CHIEF
Dara Wilson is a leader in education, committed to maximizing student success for every student. She joined the UVA-PLE in June 2018 after participating in the program for three years in her district role as an area superintendent. Before joining the UVA-PLE, she had a 32-year tenure in public schools, where she served as a special education teacher, curriculum support teacher, principal, area executive director, assistant superintendent, achievement zone officer, and area superintendent. Throughout her tenure, she was charged with leading schools to dramatic academic outcomes for students, often serving the most economically disadvantaged and underserved populations in the school district. She has extensive experience working with Title I, special education, and ESOL populations and a proven track record of positive results. As a principal for 16 years, she led each of the three elementary schools where she served as principal to award-winning status at the local, state, and national levels and received numerous personal recognitions and awards, including being named the recipient of the Jo Richardson Principal of the Year award.   

In her last role as an area superintendent, she led extensive efforts to turnaround the lowest-performing schools across the district while supervising 30 principals and over 30,000 students and ultimately ignited the community to create a strategic support model to provide differentiated support to schools based on student needs and performance across a district serving over 100 schools. Wilson earned a bachelor's in special education from the University of Georgia and a master's and specialist degree in educational leadership from Georgia State University.