Administrative Leadership
About Leadership - Julie Daum
Juliet Daum
Chief Marketing and Communications Officer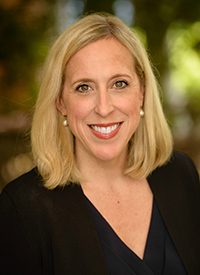 Julie Daum is Chief Marketing & Communications Officer (CMCO) at the University of Virginia Darden School of Business. She oversees the Darden brand globally and plans and executes the School's marketing, communications and public relations efforts around the world in alignment with the School's strategic plan.
Working with the dean, senior leadership, faculty, staff, students, alumni and the Darden School Foundation Board of Trustees, Daum oversees marketing for degree and non-degree programs and fundraising. She leads a multifunctional team that enhances the School's global reputation and stature through leading-edge content, creative direction, media relations, and digital marketing, data and analytics.
Daum joined Darden in 2008 as director of communications. In the years since, she has led a refresh of the Darden brand strategy and the School's digital marketing transformation ─ impacting growth and progress in key areas including enrollment, fundraising and institutional reputation.
Previously, Daum worked in Barcelona, Spain, for a decade with organizations including IESE Business School, Carmen Balcells Literary Agency, HarperCollins and the White House Writers Group. At IESE, she served as founding English-language editor of its knowledge portal.
Daum began her career working in New York City as a public relations expert in book publishing, where she supported bestsellers at Simon & Schuster and launched new titles and editorial lines for Rizzoli International Publications.
Daum became a graduate of the UVA Darden School of Business in 2022 upon completing Darden's flagship advanced management program, The Executive Program. She also graduated from UVA's Cornerstone Program for high-potential leaders. In addition to serving at Darden in the Dean's Office and on the Dean's Staff and leadership team, she serves as a member of the University of Virginia Communications Council.
She resides in Charlottesville, Virginia, and she and her husband, Clay, have two children.