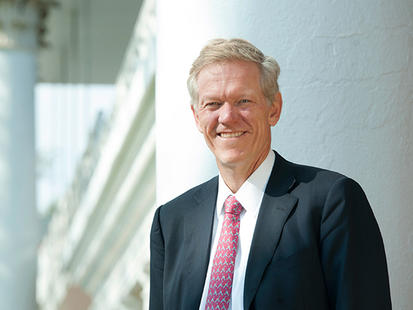 Darden Leadership
About Darden - Leadership - Dean's Office
Dean's Office
Scott C. Beardsley
Dean and Charles C. Abbott Professor of Business Administration
University of Virginia Darden School of Business
Scott C. Beardsley is the ninth dean of the University of Virginia Darden School of Business and holds the Charles C. Abbott Chair as a member of the Strategy, Ethics and Entrepreneurship academic area. In UVA's highly decentralized structure, Darden is financially self-sufficient and, as dean, Beardsley is de facto "CEO" of the Darden enterprise, including all operations, advancement and oversight of both the Darden School and its Foundation. Prior to Darden, he was a senior partner and board member at McKinsey & Co. in Belgium.
His transition to higher education follows his passion for helping students and academic communities achieve their full potential. He wrote about the rise of nontraditional leaders in academia in his 2017 book, Higher Calling (UVA Press). Since 2015, working with multiple boards and UVA, Beardsley has collaboratively established and executed a bold strategy and vision for excellence to make Darden one of the world's preeminent business schools, leading to records in key areas such as advancement; student excellence; rankings; global diversity, equity and inclusion (DEI); faculty hiring and excellence; global reach; program innovation; and infrastructure development.
After less than four years at the helm as dean, Beardsley was reappointed to a second, five-year term through 2025 and successfully led the school to AACSB reaccreditation. Poets & Quants named Beardsley "Dean of the Year" in 2020 for his leadership, compassionate approach to the pandemic and introduction of test flexibility, noted as one of the "10 biggest business school innovations of the decade." In early 2022, he received the Distinguished Alumni Award from the University of Pennsylvania Graduate School of Education.
Reputation. Under his leadership, Darden's Full-Time MBA program reached new heights in all graduate business school rankings, securing a Top 5 position in Bloomberg Businessweek (2019) and No. 2 and No. 3 globally in The Economist (2015, 2016). Other accolades for Darden during his tenure include: No. 1 MBA education experience in the world (The Economist, 2016-18) and USA (2011-19, 2022); No. 1 MBA faculty (The Princeton Review, 2017-22, The Economist, 2017-2019, 2022); No. 1 global overseas study program (The Economist, 2017-19, 2022); No. 1 satisfaction with MBA program education (Forbes, 2017-18); No. 1 general management program in the world (Financial Times, 2015-17, 2019); and No. 1 corporate social responsibility in the U.S. (Financial Times, 2019-20). In 2022, Darden was the only school to receive 11 or more Top 10 rankings by The Princeton Review.
Faculty. Through hiring 50 new, full-time faculty (now 95), Beardsley has increased the faculty's size, strength, global excellence and diversity to record levels, while maintaining No. 1 faculty rankings. Financial support for faculty research has grown significantly including the creation of an Office of Research Services, and the forthcoming relaunch of Darden's Ph.D. program. Research productivity has risen. Beardsley successfully strengthened Darden's excellence standards for tenure and promotion with a unanimous faculty vote.
Academic Programs. Their reach, breadth and innovation have expanded under Beardsley, including the:
Global DEI. Beardsley has championed broad progress on excellence via global diversity, equity and inclusion, collaborating with the Dean's Diversity Advisory Council and Global Advisory Council. He created the position of senior associate dean and global chief diversity officer reporting to the dean, with multiple senior hires to support the role, and recruited an outstanding and diverse dean's staff. As a result, the diversity of meritorious students and faculty has reached Darden records, including the highest percentage and number of women, under-represented minorities, military, first-gen and international students, and number of U.S. men and women — while simultaneously reaching academic records in each program. Beardsley served on the leadership team to assess UVA's response to the August 2017 events that occurred on the Lawn in Charlottesville, where he lives. In the wake of George Floyd's death, Beardsley commissioned a racial equity cabinet of senior Black alumni and an enterprise-wide task force that developed and implemented integrated DEI and racial equity strategies. He also commissioned a women's task force to position Darden as a leading B-school for exceptional women and advance gender equity.
Student Excellence. Financial support for Darden's ~1100 students has grown by doubling merit scholarships for access and affordability and dramatically increasing fundraising via pledges for 90 new scholarships. New merit programs include AccessDarden for need-based aid, Future Year Scholars, a $37 million scholarship endowment for first-generation students (part of a $100 million gift from a Darden graduate that Beardsley helped UVA secure), completion of a $40 million endowment for Darden Jefferson Scholars, and a $45 million endowment to enable a global travel experience for all Full-Time MBA students. MBA students' academic quality has soared to new heights, including all-time high GMAT (718) and GPA and the highest number of overall applicants. Student career outcomes have set multiple records.
Resources and Advancement. During his tenure, Darden has been on budget every year, and budgetary resources have increased 60%; Darden receives no state or UVA budget support. Thanks to generous donors, he has led the team to record fundraising: the six best years in the 21st century, its best fundraising year ever ($104 million) and the largest single gift in Darden history ($68 million). During the current campaign, he has helped raise over $450 million for Darden (including matching funds), reaching $370 million towards the Darden School Foundation's 2025 goal of $400 million. During his tenure, fundraising for the endowment has exceeded the previous cumulative total in Darden history, and endowments supporting Darden have more than doubled from $448 million in 2015 to over $1 billion, including endowments and existing pledges.
Capital Plan and Sustainability. Darden is responsible for funding, building and maintaining its Grounds. Progress towards an ambitious capital plan includes the 2018 funding and dedication of a new, modern facility in the Washington, D.C., area: the Sands Family Grounds at UVA Darden DC Metro. In Charlottesville, Beardsley has upgraded core academic facilities, including spearheading the fundraising, innovative business model and vision for The Forum Hotel — a 225,000-square-foot, $150 million Kimpton hotel and conference center — an adjacent arboretum and botanical gardens, and a 45,000-square-foot alumni hall. Construction began in January 2021 and is on time and on budget for an early 2023 opening and will comply with LEED silver certification. Darden achieved carbon neutrality following an agreement with Dominion Energy to supply the School with solar energy and has announced 2030 sustainability goals. Darden is updating a long-term masterplan vision, including a new on-Grounds apartment capital project for 300 students, with an innovative financial model.
Teaching. As an educator, Beardsley teaches courses in the Darden Full-Time MBA and Executive MBA, including "Maximizing Leadership Potential in Sports and Business," "Stakeholder Management & Regulatory Strategy," "CEO Leadership in the 21st Century," and "Corporate Strategic Leadership." He has taught Darden Worldwide Courses in Cuba, Israel, Italy, Belgium and Holland and teaches sessions in "Ambiculturalism," "General Managers Taking Action" and other Darden electives. He taught extensively at McKinsey as well.
Strategy, Research and Expertise. He led McKinsey's strategy practice as managing partner in Europe, the Middle East and Africa for seven years. He was one of McKinsey's foremost subject matter experts on strategy, regulation, technology and telecommunications, advising top decision-makers at leading companies in over 40 countries, and serving on the Knowledge Committee of McKinsey's board that managed over $300 million in annual research spend. A frequent author, speaker and media commentator, he has presented at venues such as the World Economic Forum at Davos and been featured in publications such as The Stanford Social Innovation Review, McKinsey Quarterly, The Wall Street Journal, Le Monde and Financial Times. His current research and coursework interests and focus include leadership development and lifelong learning; practical ethics and regulation of technology and well-being; AI and data, at both UVA and Pembroke College at Oxford University.
Prior Experience. Beardsley spent 24 of his 26 years at McKinsey & Co. in Brussels, Belgium, where he was an elected member of the global board of directors. After joining in New York City in 1989, he was elected partner in 1995 and senior partner four and a half years later — putting him among the fastest to rise to senior partner. At McKinsey, Beardsley was the senior partner in charge of the global learning and leadership development of all 15,000+ professionals worldwide, and launched the technology-enabled learning platform McKinsey Academy. He co-chaired the committees that elect and evaluate partners and senior partners. Prior to McKinsey, he worked in semiconductors for AMD and Analog Devices, and as a physics tutor and fundraiser at Tufts.
Service and Nonprofit Boards. Beyond his Darden School and Foundation responsibilities, he is a director on the Focused Ultrasound Foundation Board of Directors. He served seven years as board chair of the American Chamber of Commerce in Belgium, an influential policy organization. He has served the AACSB in reaccrediting peer MBA institutions. He served on President Barack Obama's White House Council's initiative to expand opportunities for women in business, and in Europe was involved in the Global Board-Ready Women Initiative to increase board gender representation. For years, he was a strategic advisor to Husson University's board in Maine and a trustee of St John's International School in Belgium. A competitive tennis player, he supports the UVA men's championship tennis team in various capacities.
Boards. He has served on the global board of directors of McKinsey & Co. He is lead director of the senior advisory board of Sands Capital, a large growth equity, PE and VC investment firm. He also serves on the board of a large private global technology and services business. 
Education. Beardsley holds a doctorate in Higher Education Management with distinction from The University of Pennsylvania. He earned an MBA from MIT's Sloan School of Management, where he received highest honors as a Henry S. Dupont III Scholar and was elected by the faculty to serve as editor and marketing manager of the MIT Sloan Management Review. He received a B.S. in electrical engineering magna cum laude from Tufts University, where he was awarded highest honors as the Eastman Kodak Scholar, and was elected to the national engineering honor societies Tau Beta Pi, and Eta Kappa Nu, also as Tufts' chapter president. 
From a family of educators and dairy farmers, Beardsley was born in Maine and grew up in Vermont and Alaska. He is a citizen of France and the United States, and is bilingual in English and French. He resides in Charlottesville, Virginia, on the Lawn at the center of the University of Virginia's Academical Village, a UNESCO World Heritage site. He and his wife, Claire Dufournet of Annecy, France, have three sons. 
 
Contact the Dean
For general queries, contact:
Sara Teague
Associate Director of Executive Operations, Dean's Office
[email protected]
+1-434-924-7481
For media inquiries, contact:
Juliet Daum 
Chief Marketing and Communications Officer 
[email protected] 
+1-434-243-3911