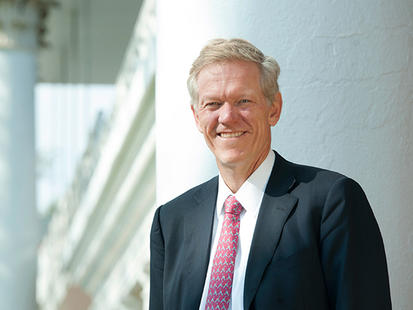 Darden Leadership
About Darden - Leadership - Dean's Office
Dean's Office
Scott C. Beardsley
Dean and Charles C. Abbott Professor of Business Administration, University of Virginia Darden School of Business
Scott C. Beardsley is the ninth dean of the University of Virginia Darden School of Business and a chaired professor in the Strategy, Ethics and Entrepreneurship area. A former senior executive, he acts as CEO of the financially self-sufficient Darden enterprise (School and Foundation). Since 2015, as chief fundraiser, he has helped raise a record $500 million in gifts — including gifts of $100 million, $80 million and $50 million — and endowment to: launch initiatives in venture capital, real estate and AI, and an institute for lifelong learning; hire 50 faculty; build a Collaboratory with the School of Data Science; boost faculty research support 400%; deliver record global diversity; and achieve record student excellence and financial aid. He gained approval from UVA's board for a new campus masterplan and led ─ from vision to completion ─ the opening of UVA Darden DC Metro, a Washington, D.C-area campus enabling new EMBA, MSBA and Part-Time MBA offerings; a $150 million Darden hotel and conference center with adjacent arboretum and botanical gardens; and alumni hall.
During his tenure, Darden has achieved record MBA rankings, including top five overall in The Economist and Bloomberg Businessweek and No. 1 for: MBA in the U.S. (The Princeton Review, Bloomberg Businessweek (public)), faculty (The Princeton Review, The Economist), educational experience (The Economist, seven times) and general management (Financial Times, four times). Poets & Quants named Beardsley "Dean of the Year" in December 2020.
Until 2015, he was a senior partner and elected global board member at McKinsey & Co. During his 26 years with the firm ─ 24 based in Belgium ─ he was among the fastest to rise to senior partner. He held some of the firm's most senior roles: leader of the strategy practice; the leader of all professionals' global talent learning and leadership development; co-chair of the global committees that elect partners and senior partners; and leader of global initiatives in broadband technologies and emerging markets telecom. A global technology and telecom expert, he helped decision makers of large, complex organizations around the world innovate, grow and transform. An electrical engineer by training, he also worked in the semiconductor industry for AMD and Analog Devices and as a physics teaching assistant at Tufts.
Beardsley's transition to higher education follows his passion for scholarship and for helping people and organizations achieve their full potential. He wrote about the rise of nontraditional leaders in academia in his 2017 book, Higher Calling (UVA Press). He was an editor of MIT Sloan Management Review, has published widely in publications such as Stanford Innovation Review, McKinsey Quarterly and WSJ, and presented at the World Economic Forum, Concordia, Financial Times and OECD. An expert in strategy, stakeholder management, regulation, and leadership development, he now researches and teaches on maximizing human potential; CEO leadership; and technology and AI regulation.
Beardsley holds a doctorate in Higher Education Management with distinction from The University of Pennsylvania, which awarded him the 2022 Distinguished Alumni Award. He earned an MBA from MIT's Sloan School with highest honors as the Henry S. Dupont III Scholar and a B.S. in electrical engineering magna cum laude, Tau Beta Pi and Eta Kappa Nu from Tufts University as the Eastman Kodak Scholar. He is currently pursuing research toward a Master in Practical Ethics degree (part-time) in the Department of Philosophy at University of Oxford's Pembroke College.
He serves or has served on multiple boards, including McKinsey & Company; Focused Ultrasound Foundation; as lead director at Sands Capital (growth equity, PE/VC); a large private company; and as Chair of the American Chamber of Commerce in Belgium. A competitive tennis player, he supports the UVA Men's Tennis national championship team in various capacities.
Originally from a family of educators and dairy farmers, Beardsley was born in Maine and grew up in Vermont and Alaska. He is a French and U.S. citizen, is bilingual in English and French, and resides in Charlottesville on the Lawn at the center of the University of Virginia's Academical Village, a UNESCO World Heritage site. He and his wife Claire Dufournet of Annecy, France, have three sons.
Contact the Dean
For general queries, contact:
Sara Teague
Associate Director of Executive Operations, Dean's Office
[email protected]
+1-434-924-7481
For media inquiries, contact:
Juliet Daum 
Chief Marketing and Communications Officer 
[email protected] 
+1-434-243-3911