Administrative Leadership
About Leadership - Marc Johnson
Marc Johnson
Senior Associate Dean for Student Engagement; Chief Strategy and Innovation Officer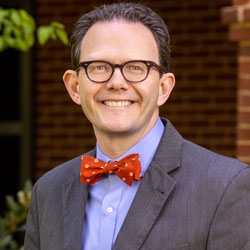 Marc Johnson (EMBA '13) serves as senior associate dean for student engagement and chief strategy and innovation officer. Johnson leads strategic planning, strategy execution and innovation initiatives for the Darden School. He is responsible for ensuring exceptional student engagement through the complete experience for the globally diverse student body across all degree programs at Darden, working with faculty leadership, leaders of the Darden Student Success Group, student leaders and other stakeholders. As chief strategy and innovation officer he continually develops, anchors and architects implementation of the strategy of Darden in pursuit of the mission and vision. He ensures a data-driven approach to problem solving across Darden and provides leadership to strategic IT. Johnson also teaches classes at Darden in global business, strategy and leadership.
Prior to Darden, Johnson served as assistant director at the Sorensen Institute for Political Leadership, overseeing political leadership training programs for high school students through working adults. Johnson has taught courses in international business, political leadership, entrepreneurship and nonprofit management across UVA. He is the co-author of several entrepreneurship case studies through Darden Business Publishing.
Johnson holds a doctorate from the University of Pennsylvania in the executive doctorate in higher education management program, where he studied access to graduate and professional degrees, publishing his dissertation on advanced degrees and social mobility in the United States. Johnson holds an MBA from the UVA Darden School, where he received the C. Stewart Sheppard Award for service and the Faculty Award for Academic Excellence, and a master's in education from the UVA School of Education and Human Development. He graduated Phi Beta Kappa from the College of William & Mary with a bachelor's degree in government.