Administrative Leadership
About Leadership - Marc Johnson
Marc Johnson
Senior Assistant Dean for Student Engagement and Strategic and Global Initiatives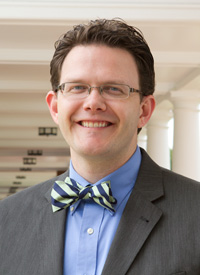 Marc Johnson (EMBA '13) serves as senior assistant dean for student engagement and strategic and global initiatives. Johnson is responsible for guiding and advocating for Darden's global strategy, initiatives and engagement, working alongside leaders across Darden to extend the School's impact and reach around the world. He leads CGI in partnering with faculty to create a suite of global learning opportunities for Darden MBA students, delivering courses in 20-plus countries a year, and to advance global thought leadership and engagement with practice. He also works closely with stakeholders across UVA to further the University's impact globally.
Prior to Darden, Johnson served as assistant director at the Sorensen Institute for Political Leadership, overseeing political leadership training programs for high school students through working adults.
He serves on the advisory council of the Reves Center for International Studies at William & Mary and the advisory board for experiential learning of the Global Business School Network.
Johnson teaches international business in UVA's undergraduate interdisciplinary studies program and courses in leadership for the Sorensen Institute. He has also taught courses in entrepreneurship and nonprofit management. He is the co-author of several entrepreneurship case studies through Darden Business Publishing.
Johnson holds an MBA from the Darden School and a master's in education from the UVA Curry School. He graduated Phi Beta Kappa from the College of William & Mary with a bachelor's degree in government.