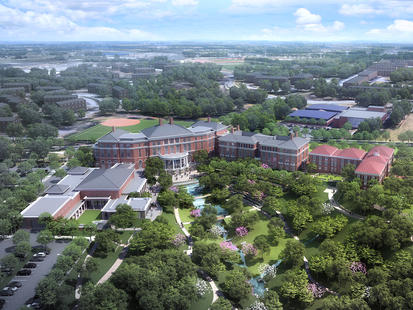 The Darden Grounds
Construction Updates - Charlottesville, VA - About Darden
Construction Underway
Great things are happening at the Darden School of Business Grounds in Charlottesville, Virginia. Starting in spring 2021 and continuing to 2023, several construction projects, including The Forum Hotel and renovated alumni hall, will enhance Darden's award-winning Grounds. Here are the latest updates, including operations changes and FAQs.  
Two construction projects on Darden's Charlottesville Grounds kicked off in January 2021:
Preparation for The Forum Hotel
Mechanical upgrades through the North Grounds Mechanical Plant project
Two additional projects are scheduled to begin this spring: renovation of C. Ray Smith Alumni Hall and construction of an arboretum and botanical gardens. Construction will continue into 2023, when the hotel is expected to be completed. 
The projects are part of the Darden Grounds Master Plan, a priority of the School's $400 million Powered by Purpose campaign, which will ensure Darden's Grounds remain among the world's best. Learn more about the plan.
The Forum Hotel Kimpton at the University of Virginia Darden School of Business at Charlottesville
Work on this exciting project began in January 2021 with the demolition of Sponsors Hall. The new hotel has 198 hotel rooms; 11,500 square feet of meeting, innovation and learning space, including a 6,000 square-foot ballroom; a destination restaurant; a lounge and café; and an outdoor green space and arboretum, with contemplative spaces and walking trails that will connect Darden and the UVA School of Law on North Grounds. The hotel will open in spring 2023.
Construction fencing and a fence wrap surround the project. To keep the community safe during construction, foot traffic has been redirected to the south side of Massie Road, crossing at the North Grounds Recreation Center side of Duffy Boulevard, where pedestrians can walk to Saunders Hall. View the map to see updates for foot and vehicle traffic, and learn more about the new inn and how to support its completion.
North Grounds Mechanical Plant Connection
To increase the efficiency and sustainability of Darden's heating and cooling, this project will create a connection between Darden and the North Grounds Mechanical Plant. Piping installation requires the temporary closure of the road in front of Saunders Hall starting on 8 February. Upon entering Duffy Boulevard to reach Darden, there will be traffic control. Parking will be removed from both sides of Duffy Boulevard, and traffic flow will be altered to accommodate traffic to either the Darden parking garage or the Faculty Office Building parking lot. View the map for updates on foot and vehicle traffic.
Handicapped access is maintained on the right side of the Saunders Hall stairs. Alternate handicapped access is available at the ground level of the Abbott Center auditorium lobby and Camp Library Building.
C. Ray Smith Alumni Hall
Adjacent to the existing inn, C. Ray Smith Alumni Hall will be renovated beginning in spring 2021. When complete, the building will house Darden's Sands Institute for Lifelong Learning and offices, and serve as a dynamic new home to welcome alumni and other visitors to the School. The project will be set off by construction fencing and fence wrap. Learn more about the renovation and how to support its completion.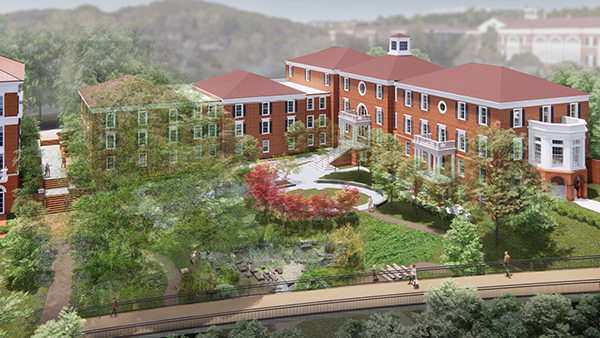 Arboretum and Botanical Gardens
A five-acre arboretum and global botanical gardens will create dynamic new green spaces designed for outdoor collaboration and learning for the Darden and UVA communities. The site, located between Smith Alumni Hall and the UVA School of Law, will be developed concurrent with The Forum Hotel. Learn more about the arboretum and botanical gardens and how to support their completion.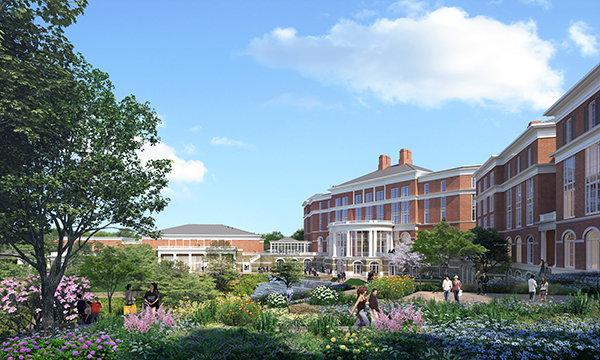 Frequently Asked Questions