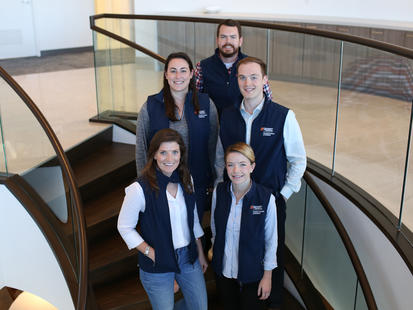 Program & Faculty
EMBA - Global Options
Global Options
Students in this format of the Darden MBA have choices — our Executive MBA (EMBA) option and our Global Executive MBA (GEMBA) option — in one world-class location: our state of the art facility in the Washington, D.C., area.
Choose Your Option
Our executive global options are more integrated than ever, with EMBA and GEMBA students learning together and mixing throughout the program. The only difference is that EMBA students participate in at least one weeklong global residency and GEMBA students participate in all four weeklong global residencies.
All students begin and end the program with a week-long leadership residency on the Grounds of the Darden School in Charlottesville, Virginia. Weekend residences are once a month on average and take place in Darden's state-of-the-art facility in the Rosslyn district of Arlington, Virginia. During weekends, students follow a Friday through Sunday schedule. Classes begin at noon on Fridays and conclude at 3 p.m. on Sundays.
In addition to the global residences, all students participate in distance learning. Online distance classes are usually twice a week on Tuesdays and Thursdays from 7–8:30 p.m. Classes are typically live synchronous sessions and attendance is required, but recordings are available to students who may miss an occasional class due to work conflicts or personal commitments.
Regardless of the option, all executive format students graduate with the exact same degree as students in our full-time program: a Darden MBA.
View the calendar for the Executive MBA Class of 2025, enrolling in August 2023.
Which option is right for you?