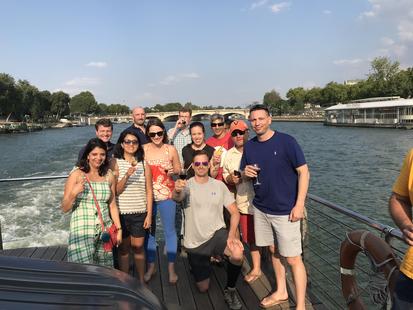 Global Study
EMBA - Global Study - Europe
Europe
Past global residencies in Europe have allowed students to explore business hubs such as Paris and Berlin.
Courses
Courses taught by Darden faculty during this residency focus on key local and multinational companies for further framing the conduct of global business. These courses could include:
Business Ethics
Financial Management and Policies
Global Leadership Explorations
A typical residency day includes three case method classes and learning team meetings in the evening. Throughout the residency, you will also participate in global leadership exploration engagements (examples outlined below) that are closely linked to your coursework.
Residency Highlights
The following activities are a sample of past residency engagements and are subject to change each year. 
Examples of Speakers
C-suite leader for a luxury goods company.
Director of Methodology and Institutional Relationships at Vigeo on corporate social responsibility.
Senior partner of Skadden Arps — specializing in mergers and acquisitions — on the financial services sector in Europe, cross-border mergers and acquisitions activity, and events during the Euro-crisis.
The MBA academic director of the IEDC - Bled School of Management in Slovenia on conducting business in Eastern Europe and its historical and current cultural context.
The former president of eBay Germany and the founder of Alando (which was then taken over by eBay) on the birth of online trading in Germany and the absorption by eBay.
The head of division for foreign economy, USA and OECD at the German Federal Ministry for Economics and Technology on the German and European economic situation in relation to the U.S. markets.
Company Visits
In conjunction with a leadership case study about the Four Seasons Hotel in Paris, students visited the Four Seasons Hotel George V in Paris to hear from the leadership of hotel operations for Four Season Europe, Middle East and Africa about bringing this iconic luxury brand to Paris. The Paris hotel's general manager and department directors gave insight into hiring and operations and conducted a front-of-house property tour for full operational understanding.
In conjunction with a leadership case study about launching Euro Disney, students visited the corporate offices to meet with vice presidents and managing directors from finance, investor relations, human resources and operations. A full tour of the broader Disney facilities was conducted by corporate leadership followed by a leadership and operations assignment within the park. 
Other Engagements
Adding context to their study of ethics, students visited the old sectors of Berlin, landmarks and memorials to the atrocities of the Third Reich, and the remnants of separation between communism and capitalism that were physical demonstrations of the 'Iron Curtain'.