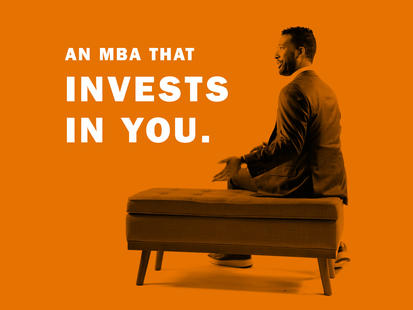 Executive MBA Program Scholarships
Executive MBA Formats - Tuition and Financial Aid - Scholarships - Batten Scholars
Batten Scholars
The Batten Scholars program supports scholarships for students across all degree formats, including partial scholarships for students admitted to Darden's Executive MBA program. The Batten Institute, a Darden center of excellence dedicated to entrepreneurship, innovation, and technology, sponsors and administers this highly competitive program. In addition to the scholarship award, benefits to help Scholars pursue their purpose and goals include enrichment opportunities and connections with fellow Scholars, alumni, staff, and faculty. 
All candidates for the Batten Scholars program are expected to have demonstrated   entrepreneurial spirit, strong leadership skills, and a drive to innovate, as well as a deep commitment to career and learning goals that align with the entrepreneurship, innovation, and technology focus areas of the Batten Institute.  
Applying for a Batten Scholarship
Prospective students interested in being considered for this scholarship must submit a supplemental essay as part of the application for Darden's Executive MBA program. Applicants should develop an essay that addresses how they meet the criteria of the program, how they would contribute to the Darden community, and how the award would further their career ambitions in entrepreneurship, innovation, or technology. Selected candidates will be invited to interview for the Batten Scholars program at the time of admission decision. 
To be considered, candidates must submit a 500-word essay as a part of their Darden application. High-potential candidates should use the essay to describe their experience in one of the three areas below. In addition, strong candidates should address how they intend to contribute to the Darden community at large. 
Entrepreneurship
Batten Entrepreneurial Scholars are problem-solvers with an eye for opportunity. Their essays should include:  
Evidence of having led or helped build a new venture 
A compelling and credible plan for future entrepreneurial endeavors  
Innovation
Batten Innovation Scholars are not afraid of complex problems; they dare to challenge the way things have always been done. Their essays should include:  
Evidence of implementing new and transformative products, services, or processes at one or more organizations  
A plan to continue to develop their creative potential, build their repertoire of tools and techniques, and take on compelling challenges within existing or new enterprises 
Technology  
Batten Technology Scholars are comfortable on the leading edge and understand how to harness technology to address critical challenges. Their essays should include:  
Evidence of exemplary impact developing and/or launching technologies and solutions  

A commitment to innovating at scale through technology in future endeavors  
Darden's entrepreneurial offerings continue to be ranked among the best in the world by publications like The Princeton Review and Entrepreneur Magazine. Most of the entrepreneurial resources and opportunities available to full-time MBA students are also available to Executive MBA (EMBA) and Global Executive MBA (GEMBA) students.