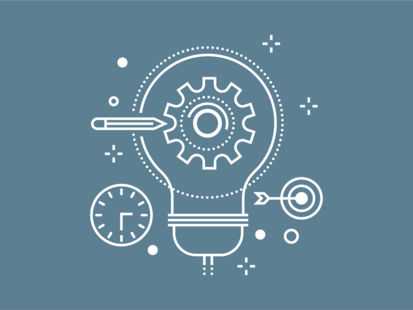 Darden Online
Darden Online - Design Thinking & Innovation
Design Thinking & Innovation
Solve complex problems. Creatively.
Specialization
4 courses, 5 weeks/course, 8 hours/week  
Darden's Specialization in Design Thinking and Innovation empowers you to become a creative catalyst with a systemic approach to innovation in the workplace. Whether you work in business, health care, education or nonprofit, this hands-on training in the core principles of design thinking and leadership will help you solve your business challenges.
Courses
5 weeks, 8 hours/week
In this class, we'll show you how to build a workplace that makes innovation the norm. We'll show you how to assess and ready yourself to lead a high performance team, leverage your social networks, and manage organizational and personal changes associated with innovation and learning.
 5 weeks, 2 hours/week
Become an innovative thinker and uncover creative opportunities using our design thinking model to solve your most difficult problems.
4 weeks, 4 hours/week
Through global stories from government, health care and education, we'll show you how design thinking tools, techniques and mindset can uncover creative solutions.
5 weeks, 8 hours/week 
Part I of our two-part project-based course is taught by Professor Jeanne Liedtka, an internationally recognized leader in design thinking. In this first course, you'll lay the groundwork for great ideas by asking "What Is?" You'll strengthen your innovation mindset and learn research techniques that jumpstart your team's potential for new and inspired ideas. Come with a challenge, leave with great ideas.
5 weeks, 8 hours/week
In Part II of our project-based course taught by Professor Jeanne Liedtka, you'll ask "What if?" as a way to consider a spectrum of possibilities and use the best ideas to generate solutions to your challenge. You'll ask "What wows?" by considering the needs of your stakeholders and your organization, and focus on "What works?" by bringing your ideas face-to-face with stakeholders.
5 weeks, 8 hours/week
In this course, you'll learn to use five human-centered design tools. You'll instead connect with your customers on a human level, to get beyond what they say and observe what they do. You'll learn to recognize weak signals about unarticulated needs and capture overlooked ideas.