Administrative Leadership
About Leadership - Barbara Millar
Barbara Millar
Assistant Dean, Executive MBA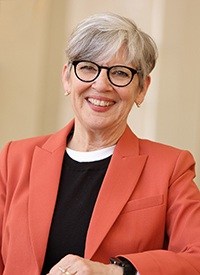 Barbara Millar serves as the assistant dean of Darden's Executive MBA (EMBA). In the summer of 2018, she added Assistant Professor to her title and is now responsible for teaching the Global Leadership Experience in China, as well as collaborating with faculty on the Rosslyn-based Explorations in Enterprise Leadership courses. In addition to her academic responsibilities, Barbara is focused on outreach to the Executive MBA alumni, student life and academic advising. She partners with the associate dean to implement the strategic vision for the program. From 2005-2018 she was responsible for the day-to-day operations of the executive MBA program, including staff development, budget and logistics (domestic and abroad).
In 2005, she moved from her post as director of student affairs to assume the role of executive director of the newly created EMBA format. She served on the design committee for the Global Executive MBA (GEMBA) and, in March 2016, was appointed assistant dean of the combined EMBA-GEMBA formats, renamed the Executive MBA program in August 2016. Her past professional experience at Darden includes admissions, financial aid and international student advising.
Prior to joining the general faculty at the University of Virginia, Barbara worked at the Whittemore School of Business & Economics at the University of New Hampshire. Her experience also includes five years in military intelligence and training for the United States Air Force.
Millar is active in the Executive MBA Council (EMBAC), serving as chair of the board of trustees from 2013–15, as well as several years as a director. In fall 2016, she was awarded the Bud Fackler Award for outstanding service to EMBAC. She has served on the board of directors of the Charlottesville-Albemarle SPCA and was recently elected to the University's General Faculty Council. She holds a doctorate of education from UVA, as well as graduate and undergraduate degrees in counseling and social work from the University of New Hampshire.