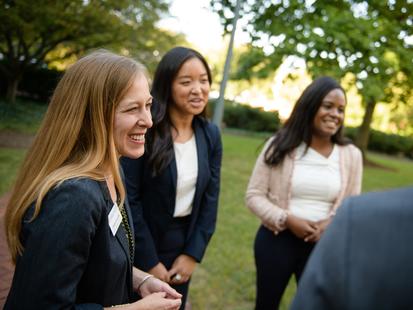 About Darden
About Darden - Women at Darden
Women@Darden
A Holistic Approach for Women
Women@Darden brings together the whole of the Darden community to develop and execute initiatives that will drive Darden toward gender inclusive excellence and propel Darden to become the business school of choice for women interested in management education.
Building Meaningful Connections
The Women@Darden initiative focuses on building connections and lasting relationships between admissions, prospective and current students, faculty and alumni. The initiative has kicked off with a focus on the student experience, examining ways to enhance the classroom experience for women, increase programmatic offerings and develop increased support and allyship for students.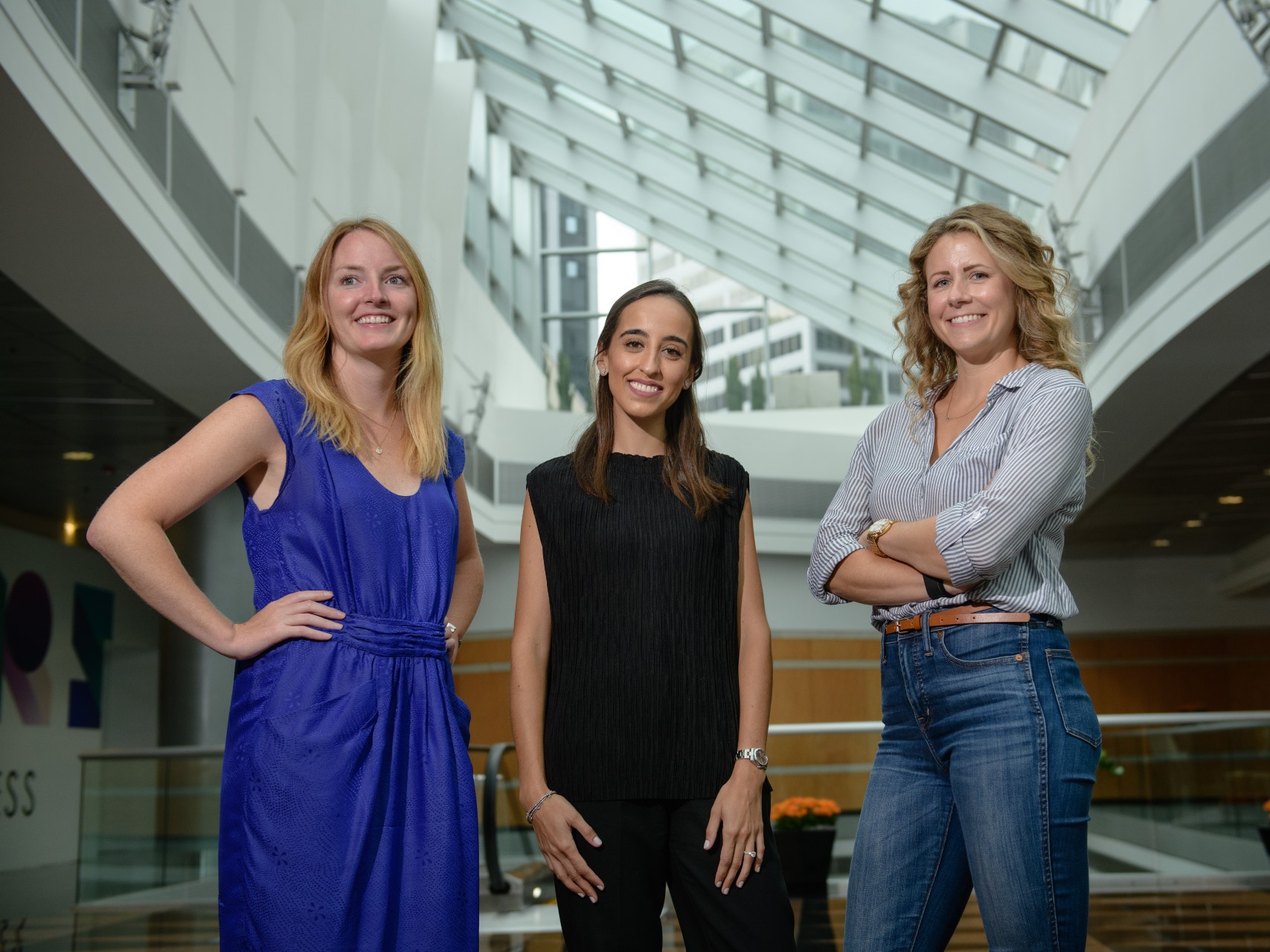 Image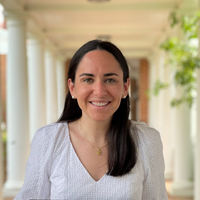 We are here to help women appreciate their possibilities, to show them that there is a path for them to, through, and after an MBA. Darden is a place that cultivates leaders, and we need more female leaders in all sectors. Women@Darden seeks to provide pathways to a Darden MBA, ensure that students have a transformational learning experience, and remain connected to this remarkable community throughout their lives. Darden women have been putting cracks in the glass ceiling for decades, but it's time for us to shatter it.
Sam Firstenberg (MBA/M.Ed. '21) Project Lead, Women@Darden Initiative
Dean's Fellow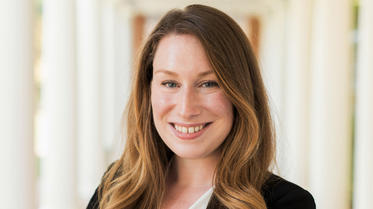 Building a Case for Diverse Case Protagonists
The Forté Foundation recently detailed how a student-led initiative helped diversify Darden cases by over 7 percent. Recent work by the Women@Darden Steering Committee is building on the work. 
By Lisa Beebe, Forté Foundation — Pam Fischer was in her first year at Darden when she and other women noticed how few of the cases they were studying featured women. She remembers thinking, "Most of the case protagonists seem to be men — in particular, white men from the United States. While this might have been the business environment of 20 years ago, it isn't the one of the future, or probably even of our class."
While few MBA programs focus entirely on case-based teaching like Darden, the case method is prevalent in at least some limited form in most MBA programs. This suggests that students all over the world may have noticed the same thing as Pam and her classmates.
Spotlight: Featured Alumnae
Alumnae: Connect With Darden's Engagement Team
Pursuing Purpose
Martina Hund-Mejean (MBA '88), Former Chief Financial Officer of Mastercard Worldwide
Darden alumna Martina Hund-Mejean (MBA '88) is a purpose-driven leader with inspiring advice for how future leaders can pursue their purpose successfully. Hund-Mejean currently serves as the head of the Darden School Foundation Board of Trustees, which oversees the Foundation's strategies, providing an important link between the academic and business communities.
Women in the Full-Time MBA Class of 2023
Women in the Executive MBA Class of 2023
Women in Student and Club Leadership Positions
Faculty Thought Leadership and Practical Insights
Darden Executive Education & Lifelong Learning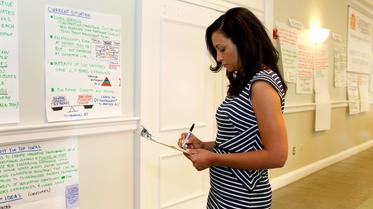 Women in Leadership
Available 2023 dates: 17-21 April and 23-27 October
Women are called on to lead in organizations and society more than ever, but they face unique challenges along the way. This non-degree program will show you how to create opportunities to leverage strengths and lead confidently at all levels.
Funding Your MBA
Darden has a robust portfolio of merit scholarships plus we partner with external foundations and organizations whose missions may include supporting MBA students through scholarships, professional development, resources, community-building and mentoring. Consideration for most of these scholarships is through the Darden application. Learn more about ways Darden students fund their MBA.
Read more about UVA's notice of non-discrimination and equal opportunity.
Women@Darden Faculty Advisors
Meet the faculty advisors who are leading the Women@Darden Committee along with students, faculty and staff from all corners of the Darden network.
In The News: Darden Students, Faculty and Alumnae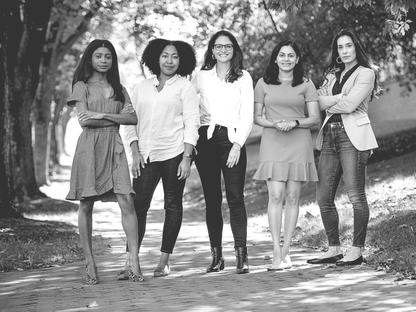 Prospective Students: Connect With our Community