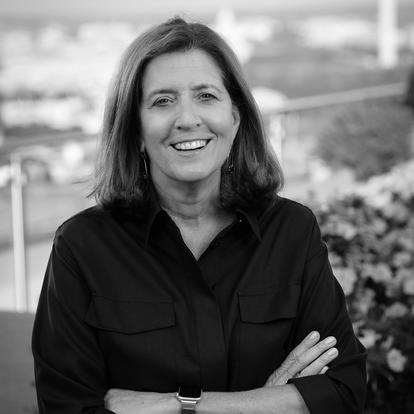 Vivian Riefberg
Professor of Practice
Walentas Jefferson Scholars Foundation Professorship Chair
Education: B.A., Magna Cum Laude, Harvard-Radcliffe College; M.B.A., with Distinction, Harvard Business School
As of August 2020, Vivian Riefberg is a Professor of Practice at the Darden School of Business at the University of Virginia where she holds a David C. Walentas Jefferson Scholars Chair. In June 2020, she retired as a Senior Partner with McKinsey & Company where she was for over 31 years. Vivian is now a Director Emeritus with McKinsey.
Vivian is also a board member of Signify Health and K Health. In 2018, Vivian was elected as a general director to the board of the Public Broadcasting System (PBS). As of July 1, 202, she also joined the Board of Trustees of John Hopkins Medicine. She is also an advisory board member for the National Education Equity Lab and was recently named as an Advisory Board Member for the Smithsonian's American Women's History Museum.
In her time at McKinsey, Vivian held a variety of senior leadership positions including leader of the Public Sector Practice for the Americas, and co-leader of the US Health Care practice. She served on McKinsey & Company's global Board of Directors and on the Senior Partner Committee evaluating and developing global senior partners.
Vivian led major strategy development, performance improvement, organizational, as well as operational programs across various participants in the private, public and non-profit sectors. She worked across a range of arenas including healthcare, security, infrastructure, and commerce.
Vivian is a frequent keynote speaker at numerous conferences including the World Economic Forum at Davos. She is also a contributor to leading industry publications authoring many articles on government productivity and improving US healthcare. Vivian represented McKinsey on initiatives and research on women's leadership in the workplace and gender diversity. Most recently the Virginia Economic Review published a piece authored by Vivian "Potential permanent health care changes: Covid-19 longer term impact." She is also a co-author on the McKinsey Global Institute Report: "The Power of Parity: Advancing Women's Equality in the United States," and an op-ed in Time Magazine, "5 Myths about America's Gender Gap."
In the past she served as a founding board member on the Board of Directors of the Partnership for a Healthier America (PHA), an independent, nonpartisan organization that mobilizes support for efforts to solve the child obesity challenge as an outgrowth of First Lady Michelle Obama's Let's Move campaign.
In addition, Vivian served from 2000-2004 on the NIH Clinical Center Board of Governors and from 2004-2006 as a member of the NIH Advisory Board for Clinical Research. In the past she also served on the Board of Directors of Mentors, Inc., a program for D.C. public high school students and the Board of Generation US, a skills-based training and employment program.
Vivian has a B.A., magna cum laude in history from Harvard-Radcliffe College and a M.B.A. with distinction from Harvard Business School.