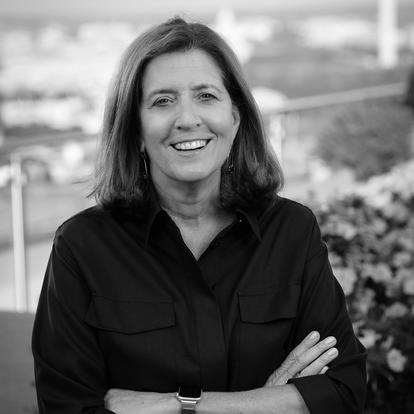 Vivian Riefberg
Professor of Practice
Walentas Jefferson Scholars Foundation Professorship Chair
Education: B.A., Magna Cum Laude, Harvard-Radcliffe College; M.B.A., with Distinction, Harvard Business School
Vivian Riefberg is a professor of practice at the University of Virginia (UVA) Darden School of Business, where she holds a David C. Walentas Jefferson Scholars Chair. She is also a Faculty Senior Fellow at the Miller Center at UVA.  In June 2020, she retired as a senior partner with McKinsey & Company after 31 years with the management consulting firm.
Riefberg teaches in multiple formats, including courses on "Solutions and Innovations in Health Care," "The Consulting Process," and a new course she conceived in "Leading in Uncertainty and Crisis." She is conducting research on how leaders handle institutional crises. She has a particular interest in women's leadership and recently co-led an effort to help Darden become a graduate school of choice for women interested in management.
Riefberg is a board member of ONWARD (EBR:ONWD), Waystar, K Health, Accompany Health and Lightrock, an impact investing firm.  In the past she served as a board member for Signify Health which was acquired by CVS in March 2023.   In the nonprofit space, she serves on the boards of the Public Broadcasting Service, Johns Hopkins Medicine, the Lorna Breen Heroes Foundation, and the National Education Equity Lab. She is also an advisory board member for the Smithsonian American Women's History Museum.
In her time at McKinsey, Riefberg held a variety of senior leadership positions, including leader of the Public Sector Practice for the Americas and co-leader of the U.S. Health Care practice. She served on McKinsey & Company's global board of directors and on the committee evaluating and developing global partners.
Riefberg is a frequent speaker at conferences, including the World Economic Forum at Davos. She is also a contributor to leading industry publications on improving U.S. health care, addressing government productivity, and women's leadership. She represented McKinsey on initiatives and research on women's leadership in the workplace and diversity and co-authored a McKinsey report, "The power of parity: Advancing women's equality in the United States."
She has served on the NIH Clinical Center Board of Governors and the Advisory Board for Clinical Research. She also served on the board of directors of the Partnership for a Healthier America, a nonprofit created to mobilize efforts to solve the child obesity challenge. She served on the board of directors of Mentors, Inc. and Generation US, a skills-based training and employment program.
Riefberg earned a BA, magna cum laude in history from Harvard-Radcliffe College and an MBA with distinction from Harvard Business School.