Administrative Leadership
About Leadership - Christie Julien
Christie Julien
Assistant Dean for Global Diversity, Equity and Inclusion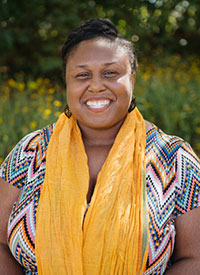 Christie Julien joined the Darden School as Assistant Dean for Diversity, Equity, and Inclusion in September of 2019. She works with the Chief Global Diversity Equity and Inclusion Officer to set strategy and execute key initiatives to ensure the Darden School's commitment to a global, inclusive and vibrant community.  She brings 6 years of experience in counseling and higher education, as well as prior experience in legal recruitment and placement.
Prior to her role at Darden, Christie worked at the University of Virginia Career Center. As an associate director she collaborated with students staff, faculty and alumni to cultivate professional opportunities for UVA students in the areas of STEM and Sustainability.  She focused specifically on helping to narrow gaps for women and people of color in both fields.  She spearheaded several key programs and initiatives around Diversity and Inclusion including a fellowship program focused on helping first generation, low income and underrepresented minority students gain social capital through externships and experiential workshops, and in house training and development for staff in the Career Center and in Student Affairs. She also spearheaded partnerships with many offices and initiatives across Grounds including the School of Engineering, Data Science, and the Office for Sustainability.
Christie earned her M.S. Ed in Mental Health Counseling from Fordham University's Graduate School of Education. She earned her undergraduate degree from New York University, completing a bachelor's degree in Broadcast Journalism and Mass Communications from College of Arts and Sciences.