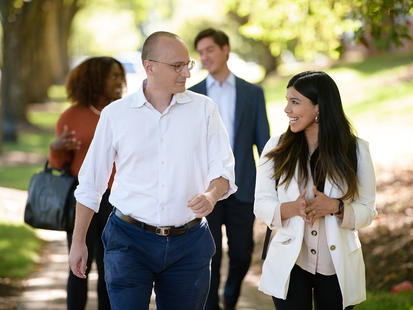 Brand Essentials
Darden Brand - Brand Essentials - Photography
Photography
Silhouetted images are dramatically lit without risking overexposure. Most often, subjects are shown individually or in small groups, brandishing expressive, choreographed poses. When in environment, shots are sparse and modern, but nonetheless recognizable to the business world. The photos chosen to represent the Darden brand should reflect our close-knit, diverse community, excellence in teaching and global leadership.
While the Office of Communication & Marketing does not have a staff photographer, we do have a list of vetted professional photographers who may be able to meet your needs. Please reach out to Interim Art Director Susan Wormington for assistance. For students, the office has cameras available to check out to photograph your events. Please reach out to Michael Chancellor for more information.
General Guidelines for Photo Selection:
Unexpected viewpoints
Diversity of genders and races
Bold compositions
Interesting angles
Don'ts
Don't use overtly "corporate" poses, compositions and styling
Don't use cliche business vignettes
Don't use inconsistent/dull lighting and advertent shadow
How to Create an Orange Overlay
Using the Adobe Creative Suite, start with a solid orange background at 100%. Then add the orange gradient taking up about 40% of the image and multiply it at 40%. Place a black and white image on top and multiply it at 100%.
To amplify the power of Rotunda Orange throughout all executions, orange can overlay a color photo; the area of overlap contains a black and white version of that photo. To avoid orange campaign-photography fatigue, employ four-color photography as a secondary option in long-form collateral and digital executions.
To create black and white photos in Photoshop:
Duplicate the image, then sharpen it via: Filter > Other > High Pass > 4.0. Set the layer to Overlay.
Add a Saturation Adjustment Layer. Lower the saturation to -100 to create a black and white layer.
Add a Levels Adjustment Layer. Fit to approximately 0/1.00/233.
Add a Brightness/Contrast Layer and adjust contrast to roughly 24, as photo clarity permits.
Through all steps, use caution with clothing detail and saturation, adjusting as necessary to preserve sharpness.
When sending to print, flatten all layers and save as a CMYK file.
Where to Find Images
Flickr contains images of student and alumni events at Darden. The images are available for use by the Darden community.
is Darden's digital asset management system where users can download logos and select a wide range of photos. Permission is required to access this site. Please contact the Office of Communication & Marketing to request access.
Image Copyrights
Darden images are for noncommercial, Darden School or University of Virginia purposes only. When the School contracts with a photographer for a photo shoot, the copyright for those photographs is held by each individual photographer. The Darden School is granted unlimited usage rights of the photographs in online, print or video materials that promote the Darden School or the University of Virginia. The images may not be used on merchandise for sale, or for any purpose outside of the Darden School of Business or the University of Virginia. Contact the art director to discuss reuse of photographs to ensure that usage complies with the agreements with the supplier.