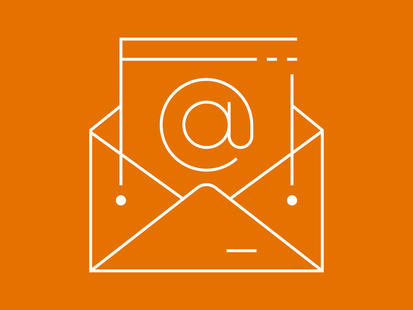 Editorial
Darden Brand - Editorial - Email Style
Email Style
Email Newsletters
Darden's primary email vendors are Marketing Cloud and Pardot. When crafting an email newsletter for your area, we recommend:
A simple header that will keep the focus on your content
Adherence to the Darden color palette
Inclusion of the Darden logo
Succinct text that is easy to scan and engaging to read
Include alt text with photos to comply with accessibility guidelines
If you are preparing to launch an email newsletter, we invite you to contact the Office of Communication & Marketing so that we can provide guidance and assistance.
 
Personal Email Style Guidelines
Avoid the use of backgrounds, personal quotes or decorative fonts in your emails.
Preferred fonts for email text are legible sans-serif fonts. Good choices are Arial, Calibri and Helvetica.
 
Email Signatures
To ensure that the name of the School is referred to consistently in email signatures, please use the samples below. You may copy the signature directly from this page and adjust for your needs. For detailed instructions on creating signatures in Outlook, refer to these instructions.
Gender Pronouns
If you choose to use a gender pronoun in your email signature please use the following format:
Your Name
Pronouns: she, her, hers
Pronouns: he, him, his
Pronouns: they, them, theirs
 

Faculty/Staff

Your Name
Title
Office/Department
University of Virginia Darden School of Business
P.O. Box 0000, Charlottesville, Virginia 22906-0000 USA
(Optional) Shipping: 100 Darden Boulevard, 22903
darden.virginia.edu

email address
+1-000-000-0000 P
+1-000-000-0000 M
+1-000-000-0000 F

(Optional) logo image with link, or use url above.

Students
Your Name
MBA Candidate, Class of 20XX
University of Virginia Darden School of Business
darden.virginia.edu
+1-000-000-0000
[email protected]
(Optional) logo image