Administrative Leadership
About Leadership - Michael Woodfolk
Michael Woodfolk
President, Darden School Foundation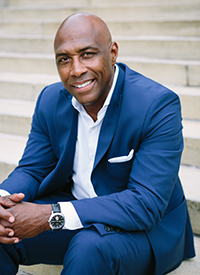 Michael Woodfolk (TEP '05) is President of the Darden School Foundation, an independent nonprofit organization responsible for raising and stewarding philanthropic funds for the University of Virginia's Darden School of Business. In addition to fundraising, the Darden School Foundation operates top-ranked executive education programs, and a world-class boutique hotel and events center for the School's benefit. On top of leading the Foundation's day-to-day operations, Woodfolk liaises with the School's leadership boards, including the Darden School Foundation Board of Trustees. In this position, Woodfolk plays an integral role in managing relationships with stakeholders across the Darden community, including alumni, corporate leaders, and government officials.
Woodfolk has nearly 30 years of experience in educational advancement in both higher education and independent schools. Throughout his career, he has a proven track record of inspiring high levels of alumni engagement — leading to record-breaking fundraising success and needle-moving changes in institutional sentiment.
Since starting as Darden's Director of Alumni Affairs in 2000, Woodfolk has served four deans. He rose to become the School's first Vice President of Alumni Affairs and then Senior Executive Director of Engagement before becoming President of the Darden School Foundation in 2017. Through Woodfolk's leadership, Darden continually boasts one of the most engaged MBA alumni bases in the world — a global network of 18,000 alumni in more than 90 countries.
Before Darden, Woodfolk worked for a decade at St. Anne's-Belfield School, an independent school in Charlottesville, Va., serving students from preschool through 12th grade, which he attended growing up. There, he grew St. Anne's stature among independent schools, working as a history teacher, three-sport coach, and head of a summer lacrosse camp that attracted talent from around the country. Woodfolk eventually served as the School's first head of alumni engagement — jump-starting meaningful outreach to alumni of the School's two preexisting institutions, which merged in the 1970s.
Woodfolk is passionate about volunteer service. He is an advisor to Harlem Lacrosse, a New York City-based nonprofit, and The House Inc., a Washington, D.C.-based nonprofit. He currently serves on the Board of Visitors & Governors of his undergraduate alma mater, Washington College, in Chestertown, Md. Previously, he served on the Board of Trustees at St. Anne's-Belfield and the Board of Directors of the Boy & Girls Clubs of Central Virginia.
Woodfolk graduated from Washington College with a bachelor's in American History. He also graduated from The Executive Program, the flagship advanced management program for top leaders offered by Darden Executive Education & Lifelong Learning. Woodfolk resides in the greater Charlottesville area with his wife, Dr. Judith A. Woodfolk, Professor of Medicine at the University of Virginia School of Medicine. They have three children.