Administrative Leadership
About Leadership - Michael Woodfolk
Michael Woodfolk
President, Darden School Foundation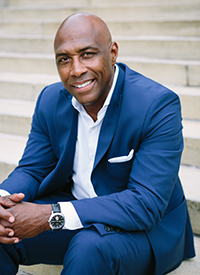 Michael Woodfolk (TEP '05) serves as executive leader of the Darden School Foundation and leads its day-to-day operations. He organizes engagement with Darden's leadership boards, including the Darden School Foundation Board of Trustees, and manages relationships with stakeholders across the network, including alumni, corporate leaders and government officials, among others.
Previously, Woodfolk served as senior executive director of Engagement, and he continues to lead engagement activities at the School in his current role.
A seasoned leader with a proven track in education and alumni relations and more than 25 years of volunteer and board management experience, Woodfolk arrived at Darden in 2000 as director of alumni affairs, and has held a number of roles in engagement and alumni relations, playing a key role in expanding and strengthening the Darden network of 15,000-plus alumni, students, parents and friends of the School.
Prior to Darden, Woodfolk served as a senior administrator and faculty member at St. Anne's Belfield School, and currently serves on the school's board of directors.
Woodfolk has a bachelor of arts degree from Washington College and is a graduate of The Executive Program, the flagship offering of Darden Executive Education.