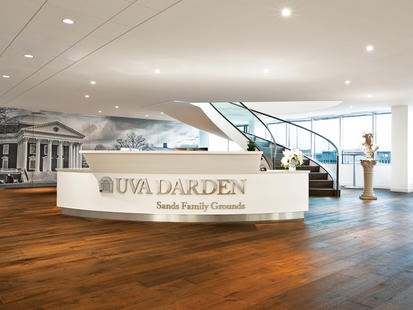 UVA Darden DC Metro
About Darden - Locations - Washington, D.C. - Contact Us
Contact Us
Location
UVA Darden DC Metro at the Sands Family Grounds is conveniently located in the Rosslyn district of Arlington, Virginia. 
UVA Darden School of Business
1100 Wilson Boulevard
Floors 30-31
Arlington, VA 22209 USA
+1-571-245-9539
Inquiries
For general information about Darden, visit the Contact Us page.
For specific questions about UVA Darden DC Metro, please call +1-571-245-9539.
To inquire about hosting an event in the space, please fill out this form or email Christine Resnick.
Darden Team in the DC Area
The following Darden faculty and staff members are based in the Rosslyn office. 
Leadership
Greg Fairchild, Associate Dean, Washington, D.C. Area Initiatives, and Isidore Horween Research Associate Professor of Business Administration, Darden School of Business
Director of Northern Virginia Operations, University of Virginia
[email protected]
+1-434-243-8879
Jen Halpin, Senior Director, DC Metro Initiatives
[email protected]
+1-434-243-3708
Alexandra Lungi, General Manager, UVA Darden Sands Family Grounds and UVA Darden DC Metro Executive Meeting Center  
[email protected] 
+1-401-556-5303
Faculty
Laura Morgan Roberts, Professor of Practice
[email protected]
Admissions 
Brett Twitty, Managing Director, Admissions & Strategic Initiatives Professional Degree Programs
[email protected] 
+1-434-982-2589
Katherine Alford, Director of Admissions 
[email protected] 
+1-434-924-3135
Alumni Career Services
Jennifer Coleman, Executive Director, Armstrong Center for Alumni Career Services 
[email protected] 
+1-434-924-3029
The Career Center
Christy Gunville, Senior Director, Consulting and Professional Services
[email protected]
+1-434-924-3029
Gopika Spaenle, Managing Director Career Center, Professional Degree Programs
[email protected]
+1-3-1-538-7472
Professional Degree Programs
Jaden Aponte, Program Coordinator
[email protected]
Anna Fairs, Senior Program Manager
[email protected]
Kelsey Fogle, Assistant Director
[email protected]
Kate Rosa, Associate Director
[email protected]
Sherri Watson, Assistant Dean
[email protected]
Leanna Yevak, Program Manager
[email protected]
Executive Education
Allison Stratton, Associate Director of Lifelong Learning, Executive Education
[email protected]
+1-434-243-2528