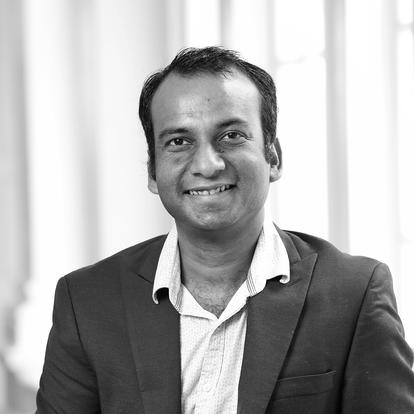 Dwaipayan Roy
Assistant Professor of Business Administration
Office
FOB 292A
Email
Academic Area
Education: B.Tech., National Insitute of Technology; M.B.A., Indian Institute of Technology; Ph.D. Carlson School of Management, University of Minnesota
Dwaipayan (He/Him) is driven by the notion that academic research in operations and supply chain management can be a force for social good and enable researchers, supply chain practitioners and policymakers to impact societal outcomes positively. To that end, he examines the sourcing relationships between government agencies and small businesses, with a focus on evaluating legislative provisions that encourage the participation of small businesses in public procurement. He also studies the mechanisms through which international non-profit organizations source funds, medical equipment and surgical expertise from developed countries to establish global supply chains for reducing healthcare disparities in emerging economies. Taken together, Dwaipayan's research generates novel insights for both theory and practice, highlighting how sourcing by government and non-profit organizations can be a force for societal good by supporting small businesses and reducing healthcare disparities in emerging economies.
Prior to joining academia, Dwaipayan worked as a project manager with The Royal Bank of Scotland where he gained valuable experience in the end-to-end implementation of process re-engineering projects for the bank's corporate and international trade divisions. He also holds a Six Sigma Green Belt certification and is an accredited ISO 9001:2008 lead auditor.
Furthermore, drawing motivation from his unique life experiences, Dwaipayan is passionate about creating a more inclusive environment for the LGBTQIA+ community in academic, particularly in business schools. At present, he does this by volunteering for the Institute for Operations Research and the Management Sciences (INFORMS), which in turn is shaping his nascent interests towards exploring how academic scholarship in business management can create a more inclusive society for the LGBTQIA+ community in academia. When not at work, Dwaipayan enjoys cooking, exploring the nature and catching up on lost sleep.