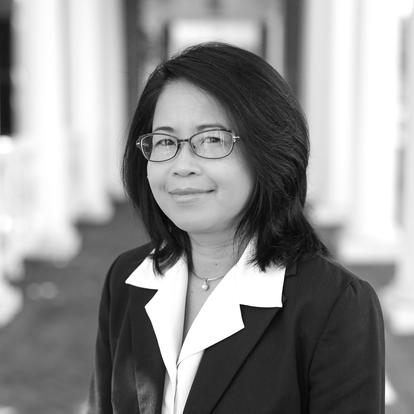 Veronica Cacdac Warnock
Professor of Practice
Batten Institute Fellow
Office
FOB 292D
Phone
Email
Academic Area
Areas of Expertise
International Housing Finance Systems, U.S. Housing, Economic Development and Finance, Bond Markets, Emerging Markets, Economic Forecasting & Surveys
Education: B.A., Ateneo de Manila University; Ph.D., Fordham University
Veronica Cacdac Warnock is an economist with background in applied econometrics, economic forecasting, and housing/housing finance. Her research currently focuses on financial sector and human development.
Warnock serves as consultant to international and research organizations, including the Inter-American Development Bank, the World Bank, ShoreBank International and the Bank for International Settlements.
She has held visiting positions at the Asian Institute of Management, HKMA's Hong Kong Institute for Monetary Research and IIIS at Trinity College Dublin. She has taught urban economics and development courses for the Urban and Environmental Planning Department at UVA's School of Architecture and for ISE's Semester-at-Sea.
Before coming to UVA, Warnock was senior economist and director at the Mortgage Bankers Association (of America).
She holds a Ph.D. in economics from Fordham University and an A.B. in economics from Ateneo de Manila University.
Featured Publications
A Natural Level of Capital Flows. Journal of Monetary Economics, 130, September 2022. with J. Burger and F. Warnock. 
Bond Market Development in Developing Asia. in From Stress to Growth:Strengthening Asia's Financial Systems in a Post-Crisis World. M. Noland and D. Park, editors. Peterson Institute for International Economics. October 2015. With J. Burger and F. Warnock.
Chapter 7. Too Small to Thrive: Housing Finance Market. In 2012 DIA -- Room for Development: Housing Markets in Latin America and the Caribbean. C.P. Bouillon, ed. April 2012. With A. Galindo, A. Rebucci and F. Warnock
Investing in Local Currency Bond Markets. Financial Analysts Journal. 68(4): 73-93. 2012. With J. Burger and F. Warnock.
Mortgage Market Functioning in International Encyclopedia of Housing and Home. S.J. Smith, M. Elsinga, L.F. O'Mahony, O.S. Eng, S. Wachter, K-H Kim, editors. Oxford: Elsevier. July 2012. With F. Warnock.
International Capital flows and U.S. Interest Rates. Journal of International Money and Finance. 28: 903-919. 2009. with F. Warnock
Markets and Housing Finance. Journal of Housing Economics. 17(3): 239-251. 2008. With F. Warnock.
U.S. Economic and Housing Outlook and Employment Articles in Mortgage Banking. From 2003 to 2005. With D. Duncan.
Case Studies
Financial Inclusion Case Module:
I. Background Note on the Philippines and Financial Inclusion, UVA-GEM-0149, 2018.
II. Lifting the Poor: A Microfinance NGO Approach in the Philippines, UVA-GEM-0148, 2018.
III. BPI Globe BanKO: Inclusive Banking in the Philippines. UVA-GEM-0137. October 2015. with F. Warnock. Darden Business Publishing.