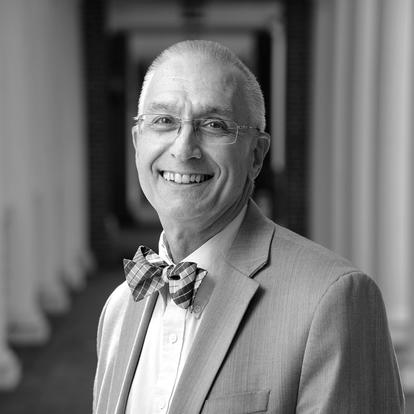 G. Paul Matherne
Professor of Practice, Darden School of Business
Professor Emeritus, UVA School of Medicine
Education: M.D., Texas A&M University; MBA, University of Virginia Darden School of Business
G. Paul Matherne, MD, MBA, is a Professor of Practice at Darden and a Professor Emeritus from the UVA School of Medicine. During his 34 year career at UVA he served as Interim Chief Medical Officer and Senior Associate Dean for Clinical Affairs at the UVA Health System, Service Line Lead for Children's Services, Vice Chair for Clinical Affairs in the Department of Pediatrics, Associate Chair for Research, Division Director of Pediatric Cardiology and Medical Director of the UVA Children's Hospital Heart Center. As a board certified Pediatric Cardiologist his practice included children and adults with congenital heart disease.
Dr. Matherne was born in Lafayette, LA, and grew up in Texas. He attended Texas A&M University for undergraduate and medical school and completed his pediatric residency at the University of Oklahoma and pediatric cardiology fellowship at the University of Iowa.
He joined the UVA faculty in 1987, initially as a clinician scientist with a basic science lab, working closely with colleagues in the Department of Physiology. During his research career he received over $4,000,000 in funding and published 90 peer-reviewed and invited articles and book chapters. After 20 years in the lab, he changed his focus to administrative duties after receiving a MBA degree from UVA's Darden School of Business. He has taught at Darden as for the past 12 years where he developed 6 electives and currently teaches 3 electives in Health Care and the nonprofit sector. He has published 38 business cases and serves as the Darden faculty advisor for the joint MD MBA degree.
He has been very involved with the American Heart Association and has served as president of the Mid-Atlantic Affiliate of the American Heart Association and chair of the CVDY Council of the AHA. He also served as a member of the AHA Scientific Councils Oversight Committee and the AHA SFRN Children's Research Network Oversight advisory committee. He received the AHA council on Cardiovascular Disease in the Young (CVDY) Distinguished Achievement Award in 2018.
Dr. Matherne and his wife of 42 years raised four children in Charlottesville and have five grandchildren. They have both been active in a variety of community activities at church, local schools and scouting. They also both enjoy cooking - especially gumbo.
 
G. Paul Matherne's Ideas to Action Posts
Business, Ethics & Society
Business, Ethics & Society