The Certificate in Business Strategy includes three self-paced online modules:
Strategy Analysis — Use key analysis and frameworks to better understand the foundations of successful business strategy.
Growth Strategy — Analyze, evaluate and recommend specific actions organizations can take to grow their value, while also avoiding common growth pitfalls.
Strategy Planning — Develop and implement your own strategic plan with expert guidance.
These three programs will release sequentially on the learning platform as you finish each one.
UPCOMING PROGRAM:
TIME COMMITMENT:
On average, 3–6 months | 2–6 hours/week, plus program project
Continuing Education Credit
6 CEUs: Equivalent to 60 hours of contact work.
Use various analyses to guide decision making
Identify and evaluate opportunities to scale an organization
Assess the impact of a potential merger and acquisition
Discover how to enter new markets
Learn how businesses compete across industries
Discover how, where, and when to enter foreign markets
Executives and managers looking for a refresher to help tackle strategic challenges
Emerging leaders looking to improve their ability to understand strategy and position themselves for advancement
Program Format:
Self-Paced Online
Cost:
$2,700
Payment is due in full at time of registration.
The strategist's challenge is to simultaneously manage three critical factors: values, opportunities and capabilities. In order to devise and execute a successful strategy, you need to analyze each of these factors to understand how your organization can create and sustain value.
Darden Professors Mike Lenox & Jared Harris
from Three Critical Factors of Business Strategy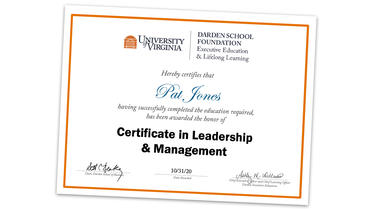 Earn a Second Certificate
Completion of the Certificate in Business Strategy counts as one program towards Darden's noncredit Certificate in Leadership & Management. Complete three additional programs to earn this certificate.
Request More Information
If you're ready to start your certificate journey or have questions, submit the below form or email us directly. A Lifelong Learning director will follow-up with you to help you select a start date and complete your registration.