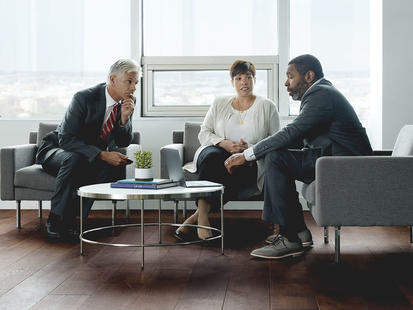 Strategy Essentials Specialization
Strategy Essentials Specialization
Whether you are an experienced business professional looking to refresh your strategy know-how or completely new to developing strategy, this specialization will give you the confidence and skills to assess industry and organization structure, develop a plan to grow your firm, and formulate and recommend business strategy. Taught by Darden professors Michael Lenox and Jared Harris, this engaging, 3-course specialization features multiple opportunities to practice your analytic skills, program mentors and peer feedback to ensure that you get the support you need to develop and implement a sustainable, successful strategy.
Featured Courses:
Develop your ability to think strategically, analyze your firm's positioning, develop competitive advantage, and recommend your firm's value proposition. You'll learn how to use key analysis and frameworks to better understand the foundations of successful business strategy.
Learn how to analyze, evaluate and recommend specific actions organizations can take to grow their value, while also avoiding common growth pitfalls. Explore the various options for pursuing growth - from scaling existing markets and entering established markets to creating new markets - and determine which would work best for your organization.
Gain the tools you need to analyze strategy over time, industries, geographies and institutions so that you can develop and implement your own strategic plan by the end of this online course.
While it is not required that you take these courses in a specific order, it is strongly recommended that you start with Strategy Analysis, as it will provide foundational building blocks that will assist you in the other two courses.
Program Format
All three 6-week courses included in the Strategy Essentials Specialization are conducted entirely online. Each course will feature weekly videos, readings and assignments, as well as a course project. You'll be able to use your own organization or any public company as the basis for projects that put your learning into immediate action. Expect to spend 2-6 hours per week on course work.
In addition to the online classroom experience, mentors facilitate conversations and classmates give and receive feedback through online discussions. Review our policies and procedures for participating in online courses, and find answers to frequently asked questions.
For each course to be completely successful, participants should maintain respectful communication with fellow participants and comply with all applicable rules, instructions, requirements and terms of service.
Specialization Program Pricing
Pricing for the 3-course specialization is $2,400, a $597 savings over taking each course independently. Payment is required in advance of the program and is not refundable or transferable after the start of each course. Please note specific rules and policies for this specialization:
Registration is required for all three courses at once for the special pricing to apply
No refunds, including any online courses previously taken
All three courses must be completed to earn a Strategy Essentials Specialization
Policies & Procedure
Registration: You can register for any of the online courses by completing a registration form directly from the course page on our website. Payment is due upon registration. We accept payment online from American Express, MasterCard and Visa. You'll receive a confirmation email after we receive your registration. Registration for each course closes on the course start date. We offer a 10% tuition reduction for groups of 10 or more. Email us for approval and pricing.
Cancellations & Transfers: If you must cancel your enrollment, you must do so within seven (7) calendar days of the course start date. Please email us with the name of the course, followed by "cancellation" in the subject line. If you cancel or withdraw within seven (7) days of the start date, you will be refunded 100% of your tuition. No refunds will be permitted after the first seven (7) days of the course.
If you prefer, you may transfer to one subsequent course offered within one year, if available. Email us with the name of the course, followed by "transfer" in the subject line. This request must be made within seven (7) calendar days after the original course start date. 
Access to Course Materials: Each of the three courses is designed to run for six (6) weeks. We leave each course open for a full ten (10) weeks. Once a course is closed, you will not be able to access our lectures and course materials, information pages or assignments (including peer feedback). You may continue to access your network, submissions, discussions, conversations and team workspace in archive mode (no new posts or comments) for up to six (6) months.
The strategist's challenge is to simultaneously manage three critical factors: values, opportunities and capabilities. In order to devise and execute a successful strategy, you need to analyze each of these factors to understand how your organization can create and sustain value.
Darden Professors Mike Lenox & Jared Harris, from Three Critical Factors of Business Strategy
Get Your Strategy Essentials Specialization
Complete the form to learn more about the Strategy Essentials Specialization program, which courses run during each session and how to best plan your learning journey to complete the specialization.