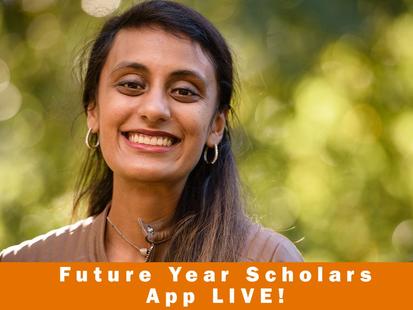 MBA - Admissions - Apply - Future Year
Future Year Scholars Program
Exceptional college students have the opportunity to gain acceptance into one of the world's top MBA programs before beginning their professional journey.
Apply Now. Start Later.
Darden's Future Year Scholars Program invites outstanding college students to join the ranks of a Top 10 business school, before ever gaining work experience. Admitted scholars may choose to begin their MBA after gaining two to five years of work experience.
2022 Application Deadlines
|   | Future Year Scholars Program Round 1 | Future Year Scholars Program Round 2 |
| --- | --- | --- |
| Application Deadline | 12 April 2022 | 2 August 2022 |
| Decision Release | 7 June 2022 | 6 September 2022 |
| Deposit Deadline | 2 August 2022 | 30 September 2022 |
Connect With Us
Virtual Coffee Chats and 1:1 Conversations
Sign up for a 1:1 Admissions Conversation or attend a virtual coffee chat with fellow prospective students  
Meet the Class of 2023 Future Year Scholars: Student Panel
19 January at 2 p.m. ET | Register
Take a Turn as AdCom: An Interactive Application Review Workshop
25 January at 2 p.m. ET | Register
Future Year Scholars Program Application FAQs
8 February at 2 p.m. ET | Register
Crafting Your Narrative: Admissions Workshop
16 February at 4 p.m. ET | Register
Get to Know the Future Year Scholars Program
Is an MBA in Your Future? Why an MBA Makes Sense for Any Major.
Join the Future Year Scholars Admissions team as they share insights about the program and provide examples of the many unique paths that both business and non-business candidates take after they earn a MBA.
Watch the webinar
(recorded February 2021)
Image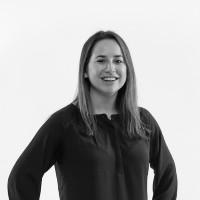 One of the biggest differentiators of the Darden experience is the support of the Learning Team. Not only are my learning teammates some of the best people I have met at Darden so far, but are the reason I feel so grounded and secure. Whether it be an academic challenge, a recruiting question, or a friendly face of a hectic day, I know I can count on this group.
Lindsay Bralower (Future Year Scholar)
Class of 2022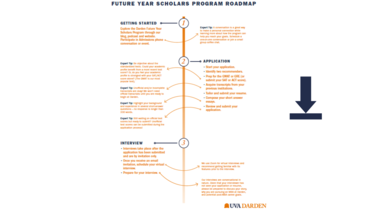 Future Year Scholars Program
Admissions Roadmap
Download the 2021 Future Year Scholars Roadmap to stay on track with your application and deferral period.
Image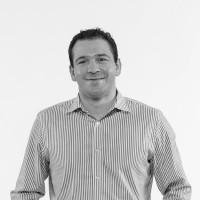 With a few years to gain experience between undergrad and business school, I was able to take a career risk by accepting a position at a smaller company and in a niche industry.  The knowledge that I could return to Darden and potentially make a career change after graduation encouraged me to take a job I may not have otherwise.
Zak DePasquale (Future Year Scholar)
Class of 2022