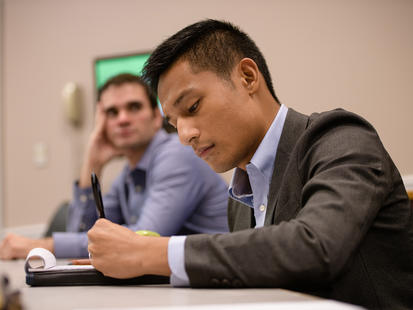 MBA - Career Support
Career Support
Advance your career with the support of the Career Center and Darden's global alumni network.
Personalized Coaching and Expert Support
Darden's Career Center delivers personalized career searches, support and resources to empower students in their goals to create value as purpose-driven leaders. The Career Center offers one-on-one professional career coaching, career management skill development and exceptional job support that together make Darden home to the best-in-class services needed to convert personal purpose into professional reward.
Stellar Numbers for the Full-Time MBA Class of 2022
Students employed by graduation
International students received a job offer by three months post-graduation
Empowering Students Through a Wide Variety of Career Resources
Darden's Career Center provides the personalized support to deliver successful outcomes for students pursuing traditional and nontraditional MBA career paths. Our team of career coaches spans every major industry, function and geography. These experts bring decades of industry experience and MBA coaching experience to help Darden students learn and excel in the internship and job search process.
Starting the summer before their First Year, Darden students have the opportunity to meet one-on-one with Career Center experts. Coaching ranges from providing holistic assistance such as helping students' create their individual career plans, to more tactical preparation such as resume and cover letter reviews, technical mock interviews and more.
Darden has a network of 18,000 alumni in 90 countries and UVA has more than 230,000 alumni around the world. Rated as one of the strongest MBA alumni networks by Poets & Quants (2011), Darden's alumni network plays an integral part in students' recruiting experience. Alumni understand and appreciate the value of the Darden MBA and are known for being highly accessible to current students and fellow alumni in the job search process.
In the job search process, alumni are happy to speak with students about their company's culture, give recruiting advice, coach through the interview experience and connect students with other professionals in their area of interest.
Upon acceptance, students receive access to the Career Development WhyFinding (CDWhy) online, self-directed career and recruiting preparation course. CDWhy offers students numerous self-assessment tools, insight into MBA job opportunities, and tailored story, resume, and LinkedIn prep. The innovative course readies students to excel during pre-MBA internships and events and far in advance of the busy MBA recruiting season.
Darden's academic year career preparation and recruiting workshops provide students with the tools needed to succeed in the MBA internship and job search. Led by experts on the Career Center team and select Second Year students, these classes are designed to help students learn more about the MBA job market, adopt proven strategies for success, make lasting connections with recruiters and alumni, and more.
During the fall of students' First Year, they are matched with one of the Career Center's more than 80 Second Year student coaches. These student coaches serve as an accessible, informed contact for First Years – and they've recently experienced the same internship search process. Second Year student coaches provide their First Year coachees with resume, cover letter and networking advice, industry-specific mock interview prep, introductions to additional Second Year students with valuable information to share, and much more.
The Second Year coach program is a great leadership opportunity for Darden students. At the end of the First Year, students can apply to be a part of the 3-credit Career Center Second Year coach course, during which coaches will study, practice and reflect upon all aspects of coaching, mentoring and counseling that fall within the scope of managerial responsibilities common to MBAs at various leadership levels. Skills learned and practiced include:
Evaluating career objectives as they relate to various career paths and goals

Targeting skills and experiences to various job environments

Giving feedback to professionals from a wide variety of backgrounds

Communicating and presenting job search ideas in an effective and timely manner

Influencing others to change, grow and excel in the job search process

Conducting mock interviews and helping with interview preparation

Leading small groups through specific career management topics

Managing time to meet counseling objectives

Presenting and assisting with career management sessions and workshops
Explore Career Support at Darden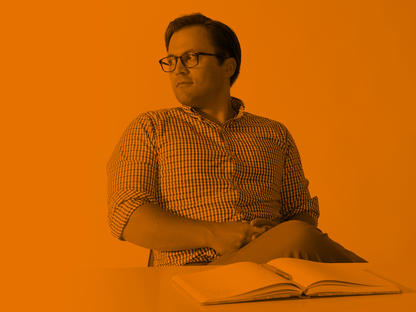 Our team's passion for getting you your dream job runs deep. And, we've got the expertise to get you there quicker than the rest.