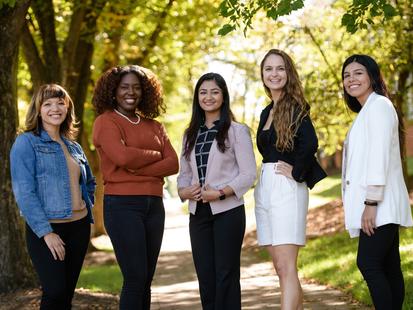 Diversity at Darden
MBA - Culture and Community - Diversity at Darden - Women
Women
Darden women make a significant impact every day — at Darden, in Charlottesville and around the world. They are club presidents — currently leading over half of Darden's student clubs — community leaders, entrepreneurs and more. Darden is committed to recruiting women who want to positively impact the world, and empowering them for long-term success in whatever role they choose.
Over the course of two years at Darden and as a lifelong member of the alumni network, you will be able to take advantage of mentorship, alumni and career development resources, and you will develop skills critical to gaining respect as a business leader. Darden's distinctive case method of instruction — designed to strengthen students' confidence in their communication, decision-making and teamwork skills — and experiential learning opportunities create a great learning environment for women.
Below you will be able to meet some of Darden's female leaders, learn about the student and partner organizations that support our female students and peruse a collection of resources developed particularly for women. Be sure to check out the Graduate Women in Business (GWIB) club page for recent conversations with current students about various aspects of the Darden experience.