MBA - Admissions - Apply - Consortium
Consortium Application Process
The Consortium for Graduate Study in Management
The mission of the Consortium for Graduate Study in Management is to enhance diversity in business education and leadership by helping to reduce the serious underrepresentation of African Americans, Hispanic Americans and Native Americans in both our member schools' enrollment, and the ranks of management.
Darden is proud to be a member school of the Consortium. The value offered in an alliance with the Consortium aligns with Darden's mission to improve the world by developing and inspiring responsible leaders and by advancing knowledge. We believe that a diverse community helps broaden understanding and elevate performance. Responsible leaders understand this by helping to foster diversity in their organizations.
Consortium offers fellowships to Full-Time MBA students who demonstrate academic excellence and have committed themselves to promoting diversity in their community and/or workplace.
Upcoming Application Events
Learn More About Consortium & Darden Admissions
Minnie Lahoti (She/Her/Hers)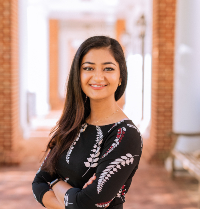 Hometown: Mumbai, India
Undergrad Institution: University of Alabama 
Undergrad Major: Chemical and Biological Engineering
Pre-MBA Industry/Functional Area: Automotive/Education 
Areas of Career Interest: Technology (2022 summer internship: Program Manager at Microsoft)
Darden Clubs and/or Leadership Roles:  Consortium Liaison, Business Ethics Club – VP of Events, Dance Club – VP of Choreography  
Why Darden? There are so many reasons and the list keeps growing! OneDarden Week happened the first week of Darden that touched on some heavy topics such as privileges and disadvantages of social class and how it feels to be a first-generation college student at Darden. I absolutely loved the Global Food Festival. In terms of academics, sometimes the case protagonists will answer our questions on the case for the class and it's really cool to be able to see what decisions they made after discussing the case in class. There are so many other reasons, but we'll save them for during a coffee chat!
What does the Consortium mean to you? Community. I was grateful to have a Consortium community before I even got to Darden and it helped me acclimate to the MBA lifestyle a little bit better. It has been an enriching experience to meet people from such diverse backgrounds.
What does a Consortium Liaison do and what are you looking forward to most in this role? A Consortium Liaison brings people together and serves as a bridge between the Consortium and non-Consortium students to bring awareness to the Consortium mission. I am looking forward to being a resource for the Consortium students to help adjust the First year students to a new life in Charlottesville, help with recruiting, socialization, and tackling the big question – a sense of belonging.
Angel Monrroy (He/Him/His)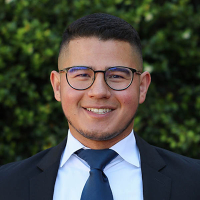 Hometown: San Cristobal, Venezuela
Undergrad Institution: University of Central Florida 
Undergrad Major: Finance
Pre-MBA Industry/Functional Area: Human Resources
Areas of Career Interest: Investment Banking
Darden Clubs and/or Leadership Roles: Darden Clubs and/or Leadership Roles: Finance Club, Asia Business Club, Black Business Student Association, Hispanic American Network, Latin American Student Association
Why Darden? Like most people, I pursued an MBA to pivot careers. I thought Darden's case method approach to learning combined with the tight-knit community would make for the best experience.
What does the Consortium mean to you? The Consortium at Darden has been an incredible support network from day 1. We all want to see each other succeed and that manifests itself in how we show up for one another in everything from casing to navigating recruiting or even just exploring Charlottesville together.
What is a Consortium Liaison and what are you looking forward to most in this role? Liaisons promote the Consortium's mission through community building and supporting the incoming class as they transition into business school. I'm most looking forward to connecting with people one-on-one and having the opportunity to share what I've learned from my own journey here at Darden.
Alexis Orr (She/Her/Hers)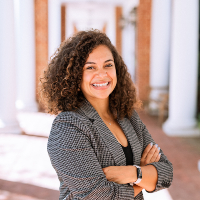 Hometown: Chicago, Illinois
Undergrad Institution: Howard University 
Undergrad Major: Finance
Pre-MBA Industry/Functional Area: Sales/General Management
Areas of Career Interest: Consulting
Darden Clubs and/or Leadership Roles: Section E - DEI Rep
Why Darden? I chose Darden for the case method, the outstanding Black community presence and the access to a wealth of knowledge and alumni base. I love Darden for the camaraderie and  the mentorship that we've received day in and day out .
What does the Consortium mean to you? The Consortium means family, connectivity, community and safety for me. I've found my extended family here at Darden in the Consortium and they've done everything to support me every step of the way.
What does a Consortium Liaison do and what are you looking forward to most in this role? The Consortium Liaison role serves as a mentor, sounding board and guiding light to the incoming First Year Class on how to best navigate Darden. Whether it be through our class schedule, recruiting on and off-grounds or navigating social life, we're here for you. I'm most looking forward to continuing the legacy of the impact Consortium has at Darden, raising awareness of our community and importance at Darden and helping our first years navigate their MBA journey.
Where can I find details on eligibility and application criteria?
Please visit the Consortium website. Darden welcomes all Consortium applicants who meet the mission and application requirements for the Consortium.
If I plan to apply through the Consortium, will my Darden test waiver apply - therefore exempting me from the Consortium's test requirement?
You are able to apply directly to the Consortium if you received a test waiver from Darden. Once you receive that test waiver confirmation, please share that with the Consortium prior to the deadline so that they can process your application as 'complete' so that your application will be sent to Darden in a timely manner.
The Consortium Interview
Interviews will be conducted according to each school's specific policy. Darden has an invitation-only admissions interview process. Upon review of applications, Darden will invite Consortium applicants to interview at Darden. Please follow the application deadlines section for timeline estimations for interviews.
Consortium Events
We host a variety of on-grounds events throughout the fall, including an annual Diversity Conference. During these sessions, attendees have the opportunity to connect with current students, faculty and staff and explore life in Charlottesville. You also have the opportunity to meet students in our Affinity Clubs over dinner and attend a social gathering hosted by the Office of Diversity and Inclusion.
In addition, Darden will have admissions and/or alumni representation at all of the Consortium MAPS events, as well as some of the other Consortium events held throughout the country during the summer and fall.
Consortium Application Deadlines
Darden accepts and reviews all Consortium applications that meet the Consortium application deadlines. The Darden Office of Admissions will determine each year the review timeline and decision deadlines that the Consortium applications will follow once received. This information will be posted in our application deadlines section. Membership notification will come directly from the Consortium. Fellowship notification will come directly from the Darden School Foundation and will occur after the Membership and Selection Committee meeting in early March.
Access the Consortium application.
Consortium Fellowships
Candidates who apply to Darden through the Consortium that are admitted compete for full tuition fellowships. The Darden School Foundation Scholarship Committee awards several fellowships each year. Learn more about Darden's fellowships and scholarships.
Consortium Application FAQs
The Consortium put together an FAQ on their website to help answer questions about the Consortium application process.
The Orientation Program
Once a Consortium admitted applicant's deposit has been received by the Office of Admissions, notification of and preparation for the Consortium's Orientation Program (scheduled in late spring or early summer) will begin immediately. Admitted students are invited and expected to fully participate in the Orientation Program as well as all the preparation activities offered through Darden.
Community Engagement and Leadership
Darden's Consortium students are very active and engaged within the Darden, UVA and Charlottesville communities. They participate in a variety of clubs, organize events and volunteer their time to give back to the School as well as the Consortium. Whether leading from where they are or in an official capacity, Consortium students are expected to be leaders in the community.
Darden students represent national organizations as well. Darden has student members and scholars representing the Forté Foundation, the National Black MBA Association, the National Society of Hispanic MBAs and the Toigo Foundation to name a few.
Alumni
Darden Consortium alumni remain connected with Darden in a variety of ways. Alumni support the School and the students by serving as support resources for students, attending events at Darden throughout the year, supporting the alumni chapters in their home cities and representing Darden at partner and recruiting events.
Podcast Featuring Consortium Co-Liaisons
(Recorded April 2022)
Darden's 2022 Consortium Cohort