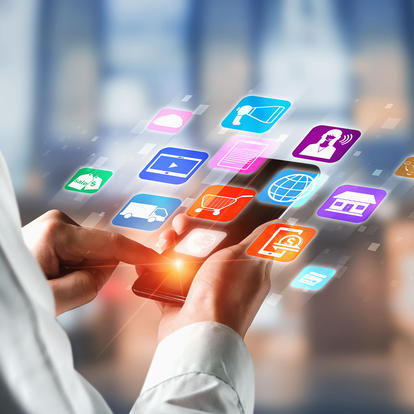 Live Virtual Course
Digital Marketing Innovation
Learn how to develop an effective digital marketing strategy and how to leverage AI, machine learning, and digital transformation to gain competitive edge.
Overview
Winning digital marketing strategies are driven by marketing leaders who relentlessly pursue new ways to connect with their markets using the latest digital tools, including AI and machine learning. This program provides managers with a framework to supercharge their marketing to create superior, personalized value and deliver amazing customer experiences.
Engage in live sessions with faculty, collaborate in groups to try out new tools, tackle business problem simulations and be prepared to develop cutting-edge digital marketing strategies.
This program is hosted entirely online, with live faculty sessions at 4pm EDT some Tuesdays and Thursdays over the duration of the course.
Intended For
Individual Contributor, Team Leader, Senior Management
Focus
Strategy, Sales & Marketing
Location
Course Overview
Led by award-winning expert in digital marketing and analytics, Professor Raj Venkatesan, this program will help managers and leaders jumpstart their digital marketing strategy by employing AI and machine learning to capture and leverage valuable customer insights to provide personalized experiences—from product development to advertising to channel management to pricing to point of sale of promotions and beyond—whose value for customers will increase exponentially over time.
Topics include:
Consumer Insights
Big Data in Marketing
Digital Business Models
Creating Customer Value
Customer Journey Maps
Omni-channel
Media Attribution
Consumer Data Privacy
Digital Promotional Strategy
Mobile Marketing
Network Effects
Marketing ROI
Impact & Outcomes
Develop plans that supercharge your marketing to create superior, personalized value and deliver amazing omni-channel customer experiences.
Address the trade-offs between data availability and consumer privacy.
Leverage the essential principles of marketing through the use of digital platforms.
Generate consumer insights from big data available on digital platforms.
Comprehend how consumer brand relationships evolve as a result of digital technology.
Optimize marketing results using measurement and analytics.
Craft a road-map for personalizing marketing at scale.
Participants
Mid to senior-level marketing managers and executives, sales and business development managers, market research analysts, product managers, and communications & public relations managers.
Faculty
Request a Consultation
Please complete the following to submit a request for consultation about this program or to discuss your development needs.