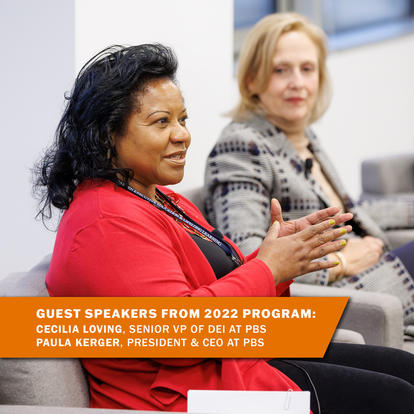 Driving Innovation Through Inclusion
Discover the driving force behind innovation and market growth - diversity, equity, and inclusion. Join renowned Darden faculty and industry leaders to learn how you can spearhead meaningful change.
Upcoming Dates

Program Dates

Format

Time Commitment

Program Fee
4-7 Mar 2024
In-Person,
Washington, D.C., Area
4 days
$8,950.00
Overview
Designed for senior leaders and diversity champions, this program is led by one of Darden's preeminent experts in DEI leadership – Professor Laura Morgan Roberts, named to Thinkers50's 2023 list of top business and management thinkers for her work promoting racial and gender equity in the workplace. You will gain insights and be inspired by guest speakers who successfully transformed their organization through DEI initiatives. 
This 4-day program includes immersive cultural experiences in Washington, DC and a custom project that will equip you with the tools you need to pinpoint and address DEI challenges. Plus participants will receive valuable executive coaching after the program. 
Intended For
Team Leader, Senior Management, Executive, C-Suite
As research continues to show that companies with diverse leadership (as well as overall workforce) are more profitable and innovative, there are so many other tangible and intangible benefits to fostering a diverse and inclusive workplace. This program unpacks the value of DEI at a deeper and more human level, to better understand the impact on individuals, teams, culture and strategy of an organization — and why it's important for senior leaders to model and communicate that value across the organization.
The conversation was enlightening. I appreciated the class size and the facilitators. They were experts in this field and guided conversations skillfully.
2022 Program Participant
From negotiation and cultural immersion to diversity communications and leveraging strengths, delve into a range of topics crucial to driving DEI impact. The program begins midday on Tuesday with a lunch session. The remaining days running approximately 9am-5pm each day, wrapping up at 2:30pm on the final day.
Featured activities & session topics include:
Mastering the art of negotiation 
Effectively managing multiple stakeholders 
Communication strategies for fostering diversity 
Creating a culture of inclusivity and change 
Harnessing individual strengths for collective success 
Implementing a work-based project and sharing insights 
Executive coaching (post-program)
Leverage your leadership strengths to advance diversity, equity, inclusion, belonging. 
Better understand various stakeholders' needs and interests and ensure their voices are heard at all levels of the organization. 
Develop skills (e.g., negotiating, mindfulness, resource exchange) to build partnerships within the organization and with industry leaders to advance DEI initiatives. 
Promote an environment that celebrates and learns from differences across many perspectives, such as race/ethnicities, gender, socio-economic backgrounds, sexual orientation, religious affiliations, and more.
This transformative experience is ideal for senior leaders in any industry who recognize the immense value of diversity within their organizations and seek to gain the strategic skills to effect profound change.
Chief diversity officers, HR and L&D management professionals, and all individuals leading diversity initiatives will find tremendous value in this program.
Location
UVA Darden DC Metro
1100 Wilson Boulevard
Arlington, Virginia
Materials and some meals are included in your program fee.
Lodging
Accommodations are not included in the program fee and should be arranged by the participant. Recommended accommodations include:
Hyatt Centric Arlington
1325 Wilson Boulevard, Arlington, Virginia, 22209
Tel: +1-703-525-1234
Le Méridien Arlington
1121 North 19th Street, Arlington, VA 22209
Telephone: +1-703-351-9170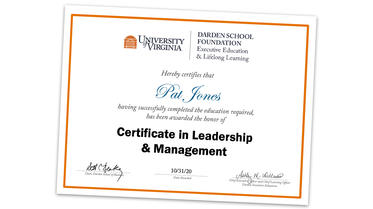 Earn Your Certificate
Driving Innovation Through Inclusion counts as one program toward a noncredit Darden Certificate in Leadership & Management. Complete this program and three additional programs within a four-year period to earn your certificate.
We've seen more of a push to hire minorities, and we understand the value that diverse identities bring to the quality of work that organizations engage in on a daily basis. We also see how diversity enables those organizations to build relations with communities of stakeholders that go beyond tokenism.
Laura Morgan Roberts
Associate Professor of Business Administration
Faculty