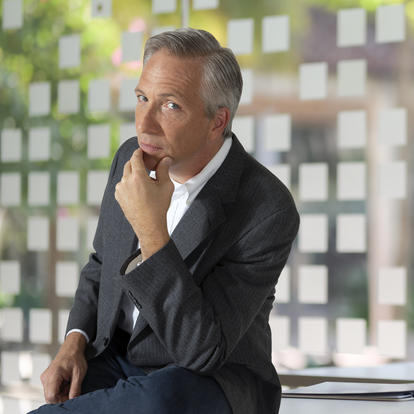 In-Person Program
Strategic Execution: Achieving Breakthrough Performance
Discover and implement an integrated framework for effective strategy execution to achieve breakthrough performance across your organization.
Overview
Top CEOs know that strategy alone does not create high performing firms. Their firm's ability to execute that strategy does. In hypercompetitive industries, effective strategy execution is the main driver of breakthrough financial performance. But many firms struggle to achieve the excellence in execution they need.
This 4-day program offers a deep dive into the key drivers of successful execution – Alignment, Architecture, Ability and Agility – and delivers a proven framework for achieving breakthrough performance.
The program will be hosted in-person, though participants may choose to attend virtually. Connect with our lifelong learning team to learn more about both learning options.
Intended For
Senior Management, Executive, C-Suite
Location
In a VUCA environment, your strategic plan is likely to be obsolete before you meet your goals. Real-world strategy execution is complex because plans ultimately change, making it absolutely critical to develop strong capabilities that drive value and performance. This program offers frameworks, assessments and tools for creating the organizational capabilities necessary for breakthrough strategic execution, and addresses the importance of agility as an organizational capability that allows firms to maintain alignment in their strategy, no matter where the target moves.
A key component of this program is learning and practicing with the 4A Framework through workshops, case discussions and simulations to improve their organization's:
ALIGNMENT
Creating a top team that is focused on purpose and strategic intent.
Building that alignment throughout the organization, with shared purpose and mutual accountability.
Developing a metrics model that grounds strategy in operational imperatives.
ARCHITECTURE
Creating an organization operating model, and core capabilities, that deliver distinctive value to customers.
Clarifying and improving the combination of people, processes, and systems that generate capabilities.
Overcoming bureaucratic hurdles and barriers to performance.
ABILITY
Creating a high performance culture that energizes breakthrough productivity and innovation.
Building a talent pipeline and leadership bench that propel the organization.
Generating better collaboration within the enterprise and with other firms.
AGILITY
Developing situational awareness of peripheral events, and deep understanding of customer needs
Lowering the center of gravity for decision making to empower employee experimentation and rapid learning.
Developing capacity for dynamic resourcing to reallocate people, finances, and information to accelerate change.
Impact & Outcomes
As a result of completing this program, participants will be able to —
Frame your organization's approach to strategy execution, and begin to flesh out a plan for action.
Attract, develop and deploy the best talent, raise skill levels, and make sure that the types of knowledge, skills and abilities are appropriate for the team and organizational objectives.
Understand the elements of collaboration that create mutual understanding, knowledge-sharing and engender trust and reciprocity.
Understand organizational architecture and how it can propel the organization forward (or hold it back).
Streamline your organization's architecture, simplifying structures, improving processes, as well as clarifying roles, responsibilities, decision rights and authority.
Develop organizational agility to build deep insights into customer needs and broader peripheral vision of what's happening in the marketplace and external environment.
Build situational awareness in your organization by empowering others to help surface potential opportunities and leverage the collective wisdom of those around you.
For those in positions to make a difference, this workshop-based program provides a set of invaluable tools for translating strategy into the realities of your day-to-day business performance.
Strategy is only an idea, a hypothesis, until it is actualized. The greatest challenge of CEOs and top management teams is helping their organizations execute better.
Professor Scott Snell and Kenneth Carrig
excerpt from Strategic Execution: Driving Breakthrough Performance in Business
Participants
This program is ideal for senior-level leaders (VP and above) charged with creating strategy and/or driving strategy execution at their organization. Teams are encouraged to attend together to get the most out of the workshop experience
Certificates
The Strategic Execution program counts as one credit toward a Darden Certificate in Management. Complete this program and earn three additional credits for a total of four credits within a four-year period to earn your certificate.
Faculty
Location
UVA Darden DC Metro
1100 Wilson Boulevard
Arlington, Virginia
Materials and some meals are included in your program fee.
Lodging
Accommodations are not included in the program fee and should be arranged by the participant. Recommended accommodations include:
Hyatt Centric Arlington
1325 Wilson Boulevard, Arlington, Virginia, 22209
Tel: +1 703 525 1234
Le Méridien Arlington
1121 North 19th Street, Arlington, VA 22209
Telephone: +1-703-351-9170
Marriott Key Bridge
1401 Lee Highway, Arlington, VA 22209
Telephone: +1-703-524-6400