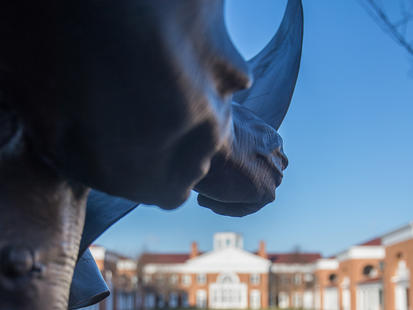 Competitive Scholarships
MBA - Tuition and Financial Aid - Competitive Scholarships - Jefferson Fellowships
Jefferson Fellowships
The Jefferson Fellowship is the premier graduate fellowship offered at the University of Virginia and is awarded by the Jefferson Scholars Foundation, an independent merit-based scholarship and fellowship program at the University.
Darden Jefferson Fellowships are granted to the most exceptional candidates from anywhere in the world who demonstrate qualities such as ethical leadership, diplomatic decisiveness, a track record of putting ideas into action and a superb record of academic achievement.
Fellowship Benefits
Each Darden Jefferson Fellow will receive full tuition and fees, health insurance, and a $20,000 living stipend. Additionally, Fellows may receive a $7,000 stipend for their MBA program to defray the cost of the required laptop, support another research-related activity, fund a global learning experience or cover costs related to the fellow's research project.
A core element of the Darden Jefferson Fellowship is the one-on-one relationship that will be established with a distinguished professor at Darden. Each fellow will select a faculty member as his or her advisor prior to the beginning of the first year of the MBA program. The fellow will work closely with the advisor on an independent research project.
Fellowship Selection Process
The Jefferson Scholars Foundation will invite candidates to apply for the fellowship in late summer. In addition, the Darden School nominates a select number of candidates who apply in the Early Action and first application rounds. International students are invited to apply in Darden's Early Action round to be considered for a nomination to the Jefferson Fellows Competition. The first round of Fellowship application review may include a personal interview.
For selected finalists, the Jefferson Fellows Competition includes a panel discussion, case discussion, and panel interview. The 2020 Competition will be held remotely. Candidates will have the opportunity to connect with Jefferson Fellows, Alumni, and Darden Faculty through remote Learning Teams.
For further information, please visit the Jefferson Scholars Foundation.